Page 3 of 4
SheiKra at Busch Gardens Tampa Bay
Once you strap on the shoulder harness for SheiKra, you've given up all control. The floor drops out, leaving your legs dangling in the breeze. Then you're hoisted up 200 feet and perched over a precipice for four heart-racing seconds before you plunge down a 90 degree drop at 70 miles an hour.
With its 2007 redesign, SheiKra became the techiest roller coaster at Busch Gardens Tampa Bay. At any point in time, SheiKra has five trains racing along its track or loading passengers in the station. Keeping track of all of these trains is a cutting-edge control system.
"We have the entire track divided up into what the roller coaster industry calls blocks, so that one train can occupy a block and a second train can never get in there," says Mark Rose, vice president of design and engineering for Busch Gardens Tampa Bay.
Sensors line SheiKra's 2,950 feet of steel track, its five trains as well as each seat on the trains. These sensors communicate in real time across a wired Ethernet network to PLCs from Allen-Bradley
"We have redundant computers in the central control room checking the same signals," Rose says. "The control system operates the ride, speeds it up, advances the trains, and handles all of those kinds of commands."
Rose says SheiKra is a more thrilling -- and safer -- roller coaster because of the computer systems used in its design and fabrication.
"What's innovative is the design and manufacturing of today's roller coasters," Rose says. "Thirty years ago, roller coasters were 60 feet high. Now we're stretching beyond 400 feet .... Because of computers, we had the confidence that we could go 90 degrees straight down. Our confidence level was high that we could make the geometry smooth and comfortable from such a height and steep angle. All of that is from the ability to do it with computers."'
Top Thrill Dragster at Cedar Point Amusement Park
Located in Sandusky, Ohio, Cedar Point is the roller coaster capital of the United States with its unmatched 17 roller coasters. The park's much copied Top Thrill Dragster was the top ride in its day and remains a marvel of engineering, thanks to its hydraulic launching system.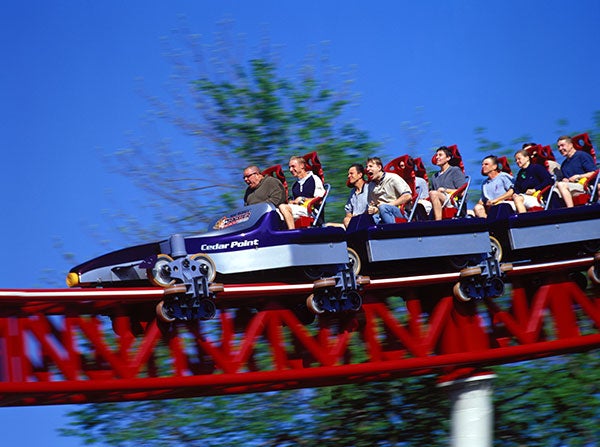 The tallest and fastest roller coaster in the world when it debuted in 2003, Top Thrill Dragster still gets your blood pumping with its rocket-style launch. The train is propelled forward, reaching speeds of 120 miles per hour in just four seconds. Then the train rises 420 feet straight up, flips on its side and free falls back to Earth.
Behind this scream-inducing ride are Pepperl+Fuchs sensors distributed throughout 2,800 feet of steel track. These sensors record the positions of the trains and send that real-time data over a Rockwell Automation ControlNet network to the ride's control system. .
"It uses Rockwell control logics processors for the ride control system," says Larry Shivak, manager of electrical systems at Cedar Point. "It has a main and a safety PLC. The I/O is checked and sent back and forth between the two processors to make sure everything agrees. The safety PLC is there for diagnostics, troubleshooting and to report the status of the ride, but it doesn't control the ride."
Cedar Point's newest ride is Maverick, a launch-style roller coaster introduced in 2007 that uses a flat motor instead of a typical round motor. Maverick's linear synchronized motor moves the train at speeds of up to 70 miles per hour through a 400-foot tunnel and around 10 banked turns.
"The linear synchronized motor allows you to control the speed very accurately and to launch the train vey quickly in the tunnel," Shivak says. "The way it sends you up the lift is quite smooth and faster than other rides. It doesn't have lifts or chains or mechanical features. It's all electrical."
Like Top Thrill Dragster, Maverick uses Pepperl+Fuchs sensors on its 4,450-feet track and Rockwell Automation control logics for its main and safety PLCs. With both rides, these computerized control and safety systems keep riders safe.
"The main PLC and the safety PLC and a third block system all have to agree. There's no ifs, ands or buts," Shivak says. "As soon as something doesn't agree, the ride immediately shuts down and you have to go and verify where the problem is."