Page 2 of 2
Next, Curve 8520 pricing. Make no mistake about it: This is a BlackBerry, and BlackBerrys are typically associated with business users. The Curve 8520 lives up to its BlackBerry name, offering RIM's tried-and-true messaging and security features, but this device is aimed at any entry-level smartphone audience, both enterprise and consumer. As such, it should be priced accordingly.
My take: Whoever sets T-Mobile's pricing on new devices needs a very long nap or something else restorative, because the company's introductory price of $129.99 with a new service plan is ridiculous. (The higher-end Curve 8900, which has a number of features left out of the new Curve, including a much better camera and flash, as well as both Wi-Fi and GPS, sells for only $20 more.)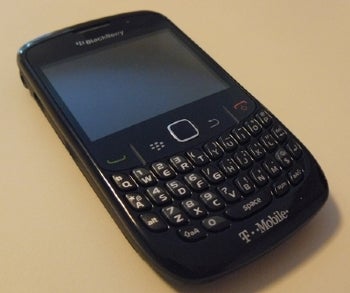 Thankfully, Wal-Mart has stepped in and decided to sell the new Curve for a much more reasonable--and appropriate--price: $48.88 with a new two-year service contract. That's a great price for a new BlackBerry, and I suspect T-Mobile will soon be forced to drop its price to compete.
The Curve 8520 is also the first BlackBerry to feature dedicated media player controls. The device has three media-centric buttons on its top side: Play/Pause, Rewind and Fast Forward. These should be valuable to anyone who frequently uses a BlackBerry to listen to music via headphones or via stereo transmitters like RIM's BlackBerry Speakerphone Visor Mount. (Note: The Curve 8520 also has a standard, 3.5mm headset jack, so you can use your favorite headphones.)
T-Mobile's great HotSpot @Home Wi-Fi calling service is also available to Curve 8520 users, enabling them to make free Wi-Fi calls whenever they're at home. (Read about the pros and cons of dual-mode, "VoWi-Fi phones" like T-Mobile's BlackBerry Curve lineup.)
The new Curve is speedy; it packs the same 512MHz processor found in its elder-Curve-8900-brother. The Curve 83xx family features 312MHz processors.
Like all of RIM's devices since the Pearl Flip 8220, the Curve 8520 has a microUSB port for charging and syncing data.
It comes in two colors: Frost blue and black. And a variety of colorful skins are available for customization.
And the device ships with a 1GB microSD memory card.
Finally, my two minor gripes: the underwhelming two megapixel camera and the fact that the Curve 8520 doesn't come with any sort of case.
Two megapixel quality is not enough for this device. All of RIM's new devices--except the Curve 8520, of course--have 3.2 megapixel cameras, with features like autofocus. But that's not even the worst part. The Curve 8520 has no flash, let alone auto-focus functionality.
For a consumer-oriented device, the lack of a flash is significant, to say the least. The iPhone has been repeatedly blasted for its lack of a camera flash, but I suspect RIM justified its decision to leave out the Curve 8520 flash because of the iPhone. (Hey, if the iPhone doesn't have it, not ALL of our devices need it either, right?)
I asked RIM why it decided to forego the flash and was told it was to reduce manufacturing costs. That's understandable, and the $50 Wal-Mart price point sure is nice, but I still think the Curve 8520 should have a flash.
Finally, the Curve 8520, Storm and the Pearl Flip 82xx are the only current BlackBerry devices that don't come with any sort of case. I'm sure the decision not to include a holster, slip-case or skin is related to cost-cutting, as well, but it rubs me the wrong way, just the same.
There you have it, a quick breakdown of the brand new BlackBerry Curve 8520 from T-Mobile. Still looking for additional smartphone options? Check out "Forget iPhone 3G S: Eight Great New iPhone Alternatives."
This story, "Is the RIM BlackBerry Curve 8520 Right for You?" was originally published by CIO.