Page 2 of 3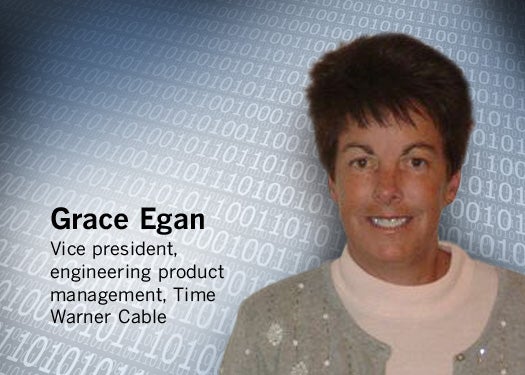 "I'm part of the advanced technology group and we do the software development," says Grace Egan, vice president of engineering product management at Time Warner Cable in Broomfield, Colo. The goal for Egan is managing the in-house engineering team, sometimes working in parallel with outside vendors, to work with business management to come up with new digital services, such as networked DVR. "It's cool," she says.
It doesn't particularly bother Egan that most of her career, which includes stints at Prodigy Services and MCI, she has been one of the few women in a male-dominated field - just as the handful of women engineers on her staff of 50 are today.
"I had four brothers and played a lot of sports," says Egan, a mother of two. "You build confidence in yourself. Sometimes you do look around the room and say, 'I'm the only lady here.' But you just become one of the players."
Nonetheless, women in IT acknowledge they find a kind of refuge in women-only conferences, such as next month's Women's Executive Forum, run by Joyce Brocaglia, CEO of recruiting firm AltaAssociates, which specializes in IT security recruitment on the executive level.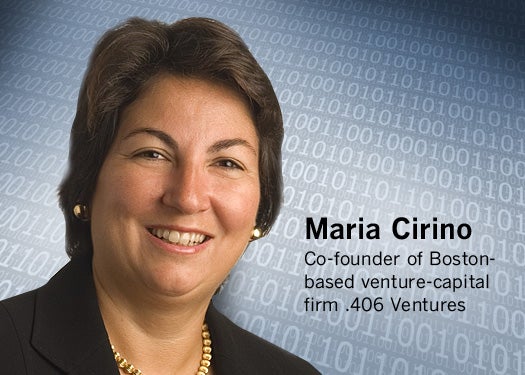 "I look forward to it because it's one of the best networking events," says Maria Cirino, managing director of Boston-based venture capital firm .406 Ventures (.406 being a reference to the batting average of legendary Boston Red Sox player Ted Williams). Williams "wouldn't swing at just anything that came at him in the strike zone," says Cirino, who says she and her two business partners, Larry Begley and Liam Donahue, strive to keep that philosophy.
The firm .406 Ventures has closed $170 million for its investment fund. "We did it the old-fashioned way," Cirino says. "We had 800 phone calls, 343 meetings and got 20 yes" answers to drum up money from investors. The firm has invested in more than two dozen start-ups, including Veracode and Bit9.
Cirino, also founder and former CEO of Guardent, which was acquired by VeriSign, says the vast majority of the firm's investments are doing well, even in the current dismal economic environment. One investment, Health Dialog, recently sold for $780 million to a British consortium.
In addition to the Women's Executive Forum, Cirino will also attend another women-only event, the Women's Private Equity Summit -- and is taking a ribbing from her male colleagues about "chick boondoggles."
Though some may object to the idea of retreats based on gender, many women insist that female-only gatherings are where they feel there's a level of candidness and camaraderie, a kind of re-energizing, that's hard to find in the usual conferences that are mainly men.
Cirino says sexism may exist in some areas of IT but she hasn't experienced any. But she adds, "IT is a demanding industry, and for a lot of women, it is about choices. But it's not fair to say you can't have a family."
In some parts of the world, the idea of women in traditional male job roles is simply rejected in business - by men at least. This means when women IT professionals walk into such situations, they find themselves treading gingerly - often using male associates as cover, making them the main presenters of ideas they would otherwise be the first to express.
Rhonda MacLean, who now heads up her own consulting firm MacLean Risk Partners after a long career that saw her become head of IT security at Boeing, Bank of America and Barclay's, has been in different countries where it was obvious that businessmen who arrived for a meeting simply had no cultural basis for interacting with women equally in positions of authority.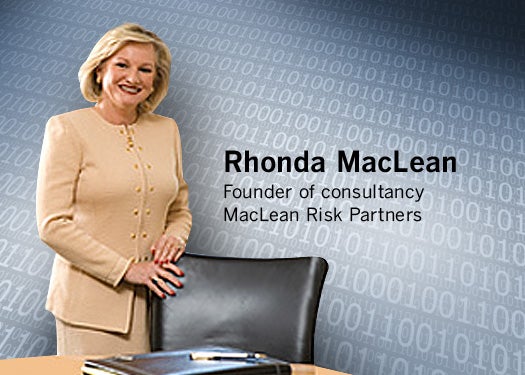 "I knew it was tough for them culturally," MacLean says. "I also felt it was more important to respect others' cultures." So, in these circumstances, she would prep "a couple of my guys to lead the discussion, and I piped in when need be."
Many women professionals cite these kinds of experiences abroad. But such instances are not the norm today, and MacLean says she encourages young women - as well as racial minorities not yet largely visible in the world of IT - to consider high-tech a great field to enter.
"I achieved more than I ever dreamed," says MacLean, whose career began at Lanier Business Products selling office automation equipment when Boeing asked her to set up its first office automation program.
At the time, she was a single mother with two children in the aftermath of a divorce. Her mentor was Texas lawyer Joe Roady, for whom she worked as a legal secretary, who told her she could be whatever she wanted to be.
"I loved solving business problems," MacLean says, adding the secret is to surround yourself with smart, hard-working people … and listen to what they have to say.