Page 2 of 2
The Police Reenter the Picture
Early the next morning, a Saturday, Krop revisited the Miami Beach police, bringing along a DVD containing the incriminating video he had captured as well as a notepad detailing what he had learned. A police clerk phoned two detectives at home and told them that Krop "had a lot of evidence they needed to see," Krop remembers. The detectives--Sergeant A.J. Prieto and Detective Matt Ambre--came in even though both were scheduled to have the day off.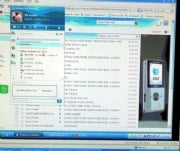 Prieto and Ambre sat and watched the video with Krop. "I think we'll get those laptops back for you now," Prieto told him. With the information from Krop's DVD, Prieto and Ambre quickly found the address in Miami for the man who had Krop's laptop.
Prieto says that when he and Ambre arrived at the suspect's door, the man was actually using the laptop in question.
"He gave up the computer quickly," Prieto says. "I think he was aware that something was not right." The man denied having stolen the laptop, however, telling Prieto that he had bought it for $300 while getting a haircut in a barbershop. The owner of the barbershop, he said, had purchased the stolen Macbook.
The barber subsequently confirmed the Toshiba user's story, Prieto says, clearing the latter of responsibility for the theft.
"The greatest thing is that in a relatively short amount of time we were able to get the computers back for the victim," Prieto said.
Krop says that nearly a month later a staff attorney in the Florida State Attorney General's office contacted him to report that police had arrested the man that they believed had stolen his laptops but that they had to release him because of insufficient evidence.
A Barbershop Visit Turned His Weekend Upside Down
The man who bought the stolen Toshiba laptop says that he was just minding his own business when another man walked into the barbershop and offered him a nice deal on a notebook PC. "This guy comes in and he said, 'Hey, what's up? I've got two laptop computers to sell.'"
The buyer already had a PC; but it was infected with viruses, and fixing it would have cost $150. "So instead of paying $150 to get my viruses fixed, I thought I'd buy this one for $300."
Later that weekend, the police arrived at the buyer's home, looking for two stolen laptops. "Two days later, I'm sitting in my crib and the police bang on the door," he says. "They sat me down and said 'We need the laptops.'"
Did the buyer know that the Toshiba laptop was stolen when he bought it? "I didn't care whether it was stolen," he says. "I buy stolen stuff all the time. I don't care... If I can save $600, I'll do it." But now knowing that a laptop can be tracked online, he says he won't be buying any more computers off the streets.
Krop has learned his lesson, too. "I've learned to always, always, always take my laptops with me and to never leave them in the car, even if it's for just a few minutes," he says. "And generally I don't take two laptops with me anymore. I take just one. And I also learned to use log-in passwords on computers"--to protect his data--and to equip his laptops with remote tracking software.