Page 2 of 3
What Do Quizzes Reveal About You?
For many users, one of the primary attractions of Facebook is the virtually endless selection of games and quizzes. Part of the lure of the games and quizzes is the social aspect. In the games, friends can compete against one another; through the quizzes, you can learn more about your friends while being briefly entertained.
The ACLU exposed problems with how much information these quizzes and games share, though. When a Facebook user initiates a game or quiz, typically a notice pops up to declare that interacting with the application requires opening access to information; the notice also provides the user the opportunity to opt out and cancel, or to allow the access to continue.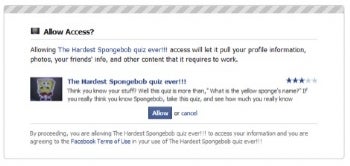 The permission page clearly tells the user up front that allowing "access will let [the application] pull your profile information, photos, your friends' info, and other content that it requires to work." One might wonder, as the ACLU has, why any game or quiz application would "require" access to your friends' information in order to work.
Canada Says 'No Way'
Facebook's privacy, or lack thereof, has also run afoul of the Canadian government. The Privacy Commissioner of Canada has determined that Facebook's privacy policies and practices violate Canadian privacy regulations, and has recommended a variety of changes that Facebook should make to be compliant.
One of the major concerns involves the permanence of accounts and account data. Facebook offers a way to disable or deactivate an account, but it doesn't seem to have a method for completely deleting an account. Photos and status updates might be available long after a user has shut down a Facebook profile. And like the ACLU, the Canadian government is concerned about the amount of information shared with third-party application providers.
Control What You Can
While the concerns of the ACLU and the Canadian government run a little deeper, Facebook does in fact offer privacy controls that restrict or deny access to information. Since Facebook is a social networking site designed for sharing information, many of the settings are open by default. It is up to you to access the Privacy Settings and configure the options as you see fit.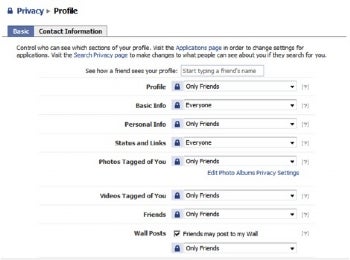 For each of the available settings, you can choose to share information with Everyone, My Networks and Friends, Friends of Friends, or Only Friends; if you prefer, you can customize the settings to fine-tune access further.