Page 2 of 5
Growth & Expansion: 2000
2000 was a year of growth, as along with the search engine reaching a milestone of one billion pages indexed, the website also expanded to support over fifteen languages including Chinese, French, German, Japanese and more.
How things change. This year (2000) also saw Yahoo! reveal that they will be using Google as their default search provider. At the time this was a big deal, as Yahoo! was once one of the darlings of search, which Google had originally set their eyes on to compete with; mission accomplished? Of course today paints a very different picture as now both Yahoo! and Microsoft are collectively attempting to compete with the search giant that Google has become.
Before the year was out Google also found time to launch the immensely successful AdWords program, and their Toolbar browser plug-in. With the year drawing to a close it was pretty clear that the search engine was on a meteoric rise, as Google was now handling nearly 100 million search queries a day.
Going Global: 2001
With the search engine now available in over twenty-five languages, it only seemed right that the company would expand on a global level with the opening of its first international office in Tokyo.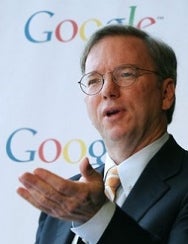 2001 also saw Google hire ex-Novell chief executive Eric Schmidt, who started at Google as the Chairman of the Board, before quickly moving on to become the CEO.
With the Google search index approaching three billion webpages, it seemed the perfect time to tackle a new type of search: Images. Google launched its Image Search service in July, and initially had an index of over 250 million images.
Getting Geeky: 2002
2002 saw Google launch a range of new products, including the shopping tool Froogle, the experimental Google Labs, and the popular Google News service, a product of the company's so-called "twenty percent time". Geeky Google also decided to offer a Klingon translation of the site for all those Star Trek fans out there, bringing the total number of supports languages to over seventy. Spiderman, Warcraft 3 and pop star Shakira were amongst the most common search terms of the year.