Page 3 of 5
The Written Word: 2003

2003 was one verbose year for the search-engine giant. It began in February when Google acquired Pyra Labs, creators of the Blogger service, which allowed the masses to publish their thoughts online with ease. Soon after the acquisition, Google's company name was announced as a recognized verb, to "google it" had become synonymous with search, however Google strived to steer clear of dictonaries and protect their strong brand.
In December the controversial Google Print was launched: Now known as Google Book Search, the service allows users to view excerpts from thousands of books in digital form. Classic books and their film adaptations, such as Lord Of The Rings and Harry Potter, were some of the most searched for terms on Google in 2003.
Email, Google Style: 2004
Without a doubt 2004 biggest Google news was the introduction of Gmail.
The beta launched on April Fools Day, but Google made sure that Gmails was no joke, offering a then-unheard-of 1GB of storage along with a speedy user experience and the beauty of Google's search technology built right in to your inbox. The service launched as a strictly invite-only affair, which resulted in an online gold rush of those hoping to land an invitation. After five years, Gmail finally disposed of its beta status early in June of 2009.
2004 also saw Google move to its Mountain View, California "Googleplex" headquarters, where the company still resides today. In addition, Google opened a research and development center in Tokyo and a European headquarters in Dublin, Ireland. With over three thousand employees, a range or products under its belt and over eight billion items in its search index Google's growth continued to amaze.
Mapping The World: 2005
In 2005, Google's ongoing effort to organize the world's information continued as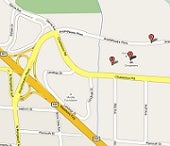 they released Google Maps. Since then, Google has continually improved the mapping service, adding new features such as satellite views and directions, as well as increasing the number of new searchable locations. Google Earth, a 3D satellite photography-based mapping application, soon followed, further complimenting Google's range of location services.
2005 also saw the release of the iGoogle customizable home page, Google Reader RSS feed manager and Google Analytics. Optimized mobile versions of Gmail, Blogger, and Search were also released.
Oh, and could you imagine naming your newborn baby "Google"? It happened.