Aerosmith, Roger Daltrey and -- get this -- Three Dog Night were all signed on to entertain 22,000 of Oracle's best customers Oct. 14 in a former airplane hangar even older than the singers on San Francisco's Treasure Island ... only up crops a problem.
The City of San Francisco had inexplicably gone and rented the hangar to the production crew of the NBC television show "Trauma," according to this story in the San Francisco Chronicle. (Incidentally -- or at least I presume it's incidental -- the mayor's actress wife, Jennifer Siebel Newsom, appeared in the pilot episode of "Trauma." Happy couple pictured.)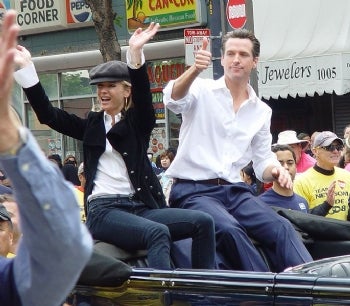 Fear not, though. Presumably after Oracle pitched a fit (total guess on my part) the mayor's office stepped up and offered to pitch a football-field-sized tent to replace the hangar as venue for Geriatric Entertainment Night. (Sorry, I love Aerosmith and The Who as much as any child of the '70s, but is this a high-tech gathering or an AARP convention?)
Tab for the tent: a cool $270,000.
The Chronicle asked Mayor Gavin Newsom's office for comment and got this galling response from Newsom toady Nathan Ballard: "If Donald Trump can build a tent for Moammar Khadafy, surely our friends at Oracle deserve the same hospitality."
Perhaps he wouldn't have been quite so flip had the money been coming out of his pocket.
Now times are tough in the high-tech industry, but Oracle last year made a profit of $5.6 billion on revenue of $23.2 billion. Not bad. They're willing to spend $7.4 billion to buy Sun. And, of course, Oracle head honcho Larry Ellison is among the most ostentatiously rich people on the planet; Forbes has him pegged at No. 4, worth a sweet $22.5 billion.
Meanwhile, San Francisco's municipal finances have been anything but rosy given the destitute state of that state.
Under the circumstances, couldn't the company -- or Ellison himself -- have picked up the tab for that tent instead of sticking it to the already traumatized taxpayers of San Francisco?
If not, the least the mayor's office could have done is apologize for the costly screw-up.
This story, "Taxpayers Foot the Bill for Oracle Shindig" was originally published by Network World.