Get Windows 7 on Your Netbook in a Half-Hour
Windows 7 uses a loading program called Bootmgr. The active partition on the USB key needs to have code written to its boot sector that is compatible with Bootmgr. This code can be written to the USB key by using the bootsect.exe program that is present in the Boot folder of the Windows 7 DVD. To extract this code, we have to use the Command Prompt. From the Start menu select Run, type cmd and press Enter.
Once the Command Prompt is open, switch to your Windows 7 DVD by typing the drive letter for your DVD drive, which is usually d:. Then, you must type the following line:
boot\bootsect /nt60 j:
In this line, we are telling bootsect to use the /nt60 command to write the compatible boot code to our USB drive, which is the j: drive. Substitute the letter of your own USB drive for j:.
When this is successful, your screen will look like this: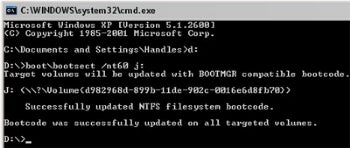 Step 3: Copy Windows 7 to the USB key
Now that the USB key is prepared, all that remains is to copy the contents of your Windows 7 DVD to the USB key.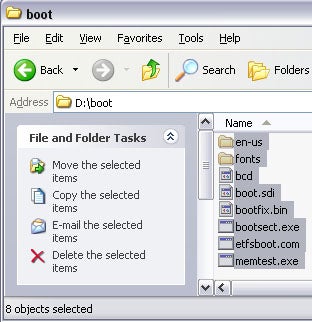 The root folder of the Windows 7 DVD contains five folders and three files, and the entire disk is 2.32GB.
This will take approximately 7min to copy, depending on the speed of your computer and USB drive.
Step 4: Change your netbook's boot device
In order to install Windows 7, your netbook will need to boot from your USB key, rather than its hard drive. To change this, you need to enter the BIOS and alter the boot settings. How this is accomplished varies depending on the make and model of the netbook. In general, to get into the BIOS you have to press either the DEL key or one of the Function buttons. Look for a message on the screen when you first switch on the netbook; often there will be an indication of which key or key combination you should press in order to enter the BIOS.
Plug in your USB key, and switch on the netbook. Once in the BIOS, go to the Boot menu and look for the 'Boot Device Priority' setting. In this setting, change the '1st Boot Device' option to 'USB'. On some netbooks (such as the MSI Wind 12 U200), it may even give you the name of your USB key.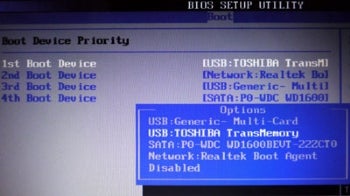 The MSI Wind 12 U200 shows us the actual name of our USB key.
Once you've changed the boot device, save your changes and exit the BIOS. The netbook will now load from the USB key and proceed to install Windows 7. When the installation reaches the point where it restarts the system, be sure to remove the USB key, otherwise the netbook will boot from the USB key once again and will restart the installation.