Low-end MacBook Gets Unibody Design
Apple on Tuesday announced an updated version of its low-end MacBook laptop, which will be available immediately. The new model, while still clad in white polycarbonate, now features the same unibody construction and bright LED-backlit screens as Apple's other laptops, as well as the same glass multi-touch trackpad found in the MacBook Pro line.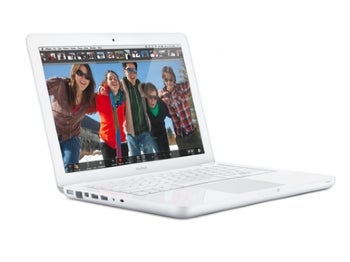 The new 13.3-inch MacBook bears the same $999 price as the old model, but is powered by a 2.26GHz processor. It also features 2GB of 1066MHz RAM, a NVIDIA GeForce 9400M graphics chip, and a 250GB hard drive.
This new MacBook has a familiar look, but it's thinner, with curved edges. Like Apple's other MacBooks, it's got a self-contained, non-swappable battery. As a result, the bottom of the laptop has no feet--instead, the entire bottom surface is rubberized, save for eight screws.
The previous MacBook model was a holdover from the previous generation of MacBooks, and became the only MacBook when the aluminum-clad models became MacBook Pros in June 2009. It was available in a single $999 configuration, powered by a 2.13GHz Core 2 Duo processor, with 2GB of 800MHz RAM and a 160GB hard drive. The white MacBook has featured Nvidia GeForce 9400M graphics since January.
Apple Updates iMac, Mouse, MacBook

Amazon Shop buttons are programmatically attached to all reviews, regardless of products' final review scores. Our parent company, IDG, receives advertisement revenue for shopping activity generated by the links. Because the buttons are attached programmatically, they should not be interpreted as editorial endorsements.