Page 2 of 2
As for speed, in a home environment I usually walk away while the printer kicks out a few photos. I don't wait for them. If you print a lot of text pages, slow performance could be an issue. On the other hand, if you're doing that you're probably better off getting a low-cost laser printer, which offers blacker, more crisp text and far lower operating costs than the ESP-7 - or any other all-in-one ink jet printer, for that matter.
Paper tradeoff: Cost versus image quality
I tested on five papers. These included two premium 4 x 6 photo papers: Kodak Ultra gloss and Staples Photo Supreme high gloss; two everyday photo papers: Kodak Photo Paper and Staples Photo Plus gloss papers; and plain copy paper.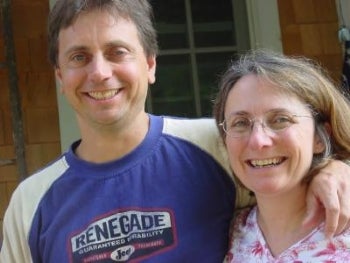 Click the caption of this original JPEG file image, shot from my Sony Cyber-shot digital camera, to see how well Kodak's ESP-7 printed on various papers — and how that output compares to what you'd get from a professional photo printing system at your local Wal-Mart.
The difference between prints on premium papers and everyday papers were very small while the difference in cost is substantial. You can pay as much as double the price for paper and get only a slight improvement in quality. I doubt that most people will find the premium paper to be worth the extra cost, except perhaps for a few special photos and enlargements.
Paper costs range from 23 cents for Kodak's highest quality Ultra paper to 14 cents for its everyday Kodak Photo Paper, based on retail prices. I did not test ink cost per print this time around. In previous tests on the ESP-7's predecessor, however, the cost per print was 7 cents (Kodak claims 6.9 cents). I based my testing on a selection of more than 100 family photos from my own collection, not on an abstract test suite. In my previous testing ink costs for a competing model ran more than three times what ink cost for the Kodak unit. The ESP-7 uses the same ink and same printing technology as its predecessor.
At 30 cents per print, the total cost per print using Kodak Ultra paper is more than printing at Wal-Mart. For the lower cost and better quality you might as well take your best pictures to the kiosk. If you're willing to buy paper online, Kodak Photo Paper is the best value of the papers I tested. Paper cost: 9.5 cents per print. Total cost per print: 16.5 cents.
If you're looking for premium paper, the Staples Photo Supreme house brand paper costs slightly less than Kodak's Ultra line. Image quality is roughly comparable, although a discerning eye might give the edge to Kodak. Kodak paper also is encoded on the back so that paper type is automatically sensed by the printer.
Testing: What you see is not what you get
I tested the ESP 7 using a variety of 4 x 6 photo papers, including both Kodak paper and the Staples house brand. I also included the original digital photo image and a commercial print generated by a Kodak kiosk at my local Wal-Mart.
I scanned all prints using Adobe PhotoShop Elements and the ESP 7's built-in scanner. Image files were saved with no edits or retouching.
I've included paper costs in the captions below each image. For more on how paper choice affects image quality, see The paper choice. Higher quality papers produce a better image but may use slightly more ink. My previous tests showed about a 10% difference in ink consumption in one case. I did not test for this with the ESP-7, but it's something to bear in mind. Bottom line: Slight variations in total cost per page are not meaningful; larger variations are.
Total cost per print includes both ink and paper costs. Ink costs are based on my tests of a prior model, which yielded 7 cents per page for 4 x 6 prints. The ESP-7 uses the same ink and printing technology as its predecessor. My test results came close to Kodak's claim of 6.9 cents per print for its ESP line.
Finally what you see is not what you get: The scanning process and appearance on a back lit screen lightened the images noticeably. For example, in the Wal-Mart print the blue in my shirt is significantly darker on the print than you will see in the image scan that follows, and the flesh tones are richer.
In reality the difference between the Wal-Mart print and the best ESP 7 test prints is noticeable but less striking than what you see. The relative differences between the different ESP-7 photo print scans are fairly reliable and give an idea of what differences you can expect when printing on different brands and grades of paper with the ESP-7.
Related Content:
This story, "Kodak's ESP-7: Print Quality Varies with Paper Type" was originally published by Computerworld.