Connect to Customers With E-Mail Marketing
Nobody likes to receive spam, but nearly every business can cultivate customers and increase sales through the effective and judicious use of e-mail marketing. With a well-managed e-mail list, you can keep your customers informed about company news, product introductions, and promotions.
To help you manage everything effectively, e-mail marketing services can organize your contacts, track readership, and evaluate customers' interest in what you're sending out. You'll build a newsletter template, import and manage the contact list, send messages, and audit the results.
Many services can do the job, and they share many similarities. Here are a few good e-mail marketing services to check out.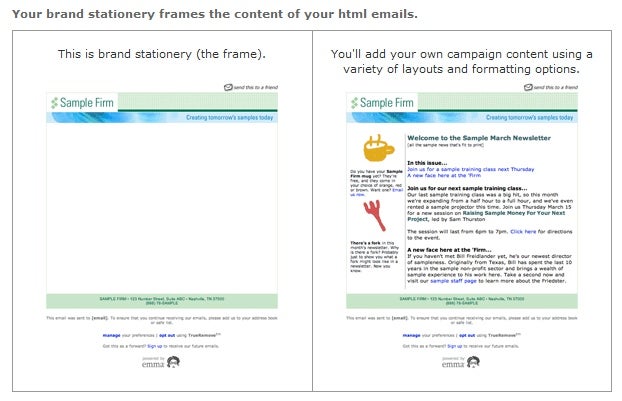 If you want to try your prospects without paying, consider the free version of MailChimp to manage lists of 500 or fewer customers. You can send 3000 total messages each month or, if you like the service, you can pay for the ability to send to more people.
JangoMail can connect to your contact databases directly from your mail server, streamlining the process by avoiding the exporting step to bring in new e-mail addresses. No JangoMail branding appears in your messages. Plus, you can initiate e-mail campaigns from your regular e-mail client; you send a message with a special subject line to JangoMail, and the service sends the message to the list of contacts you specify.
I like Emma in general, but especially for small businesses that lack the resources to design their own e-mail layout. Other sites offer templates and ways to upload a company logo, but Emma designers merge your assets--a logo, letterhead, URL, or other documents--into your e-mail design. That process costs a $249 setup fee, and you'll pay $30 per month or more depending on the volume of e-mail sent. In this tutorial, I'll explain how to get started with Emma.
Import Your Contacts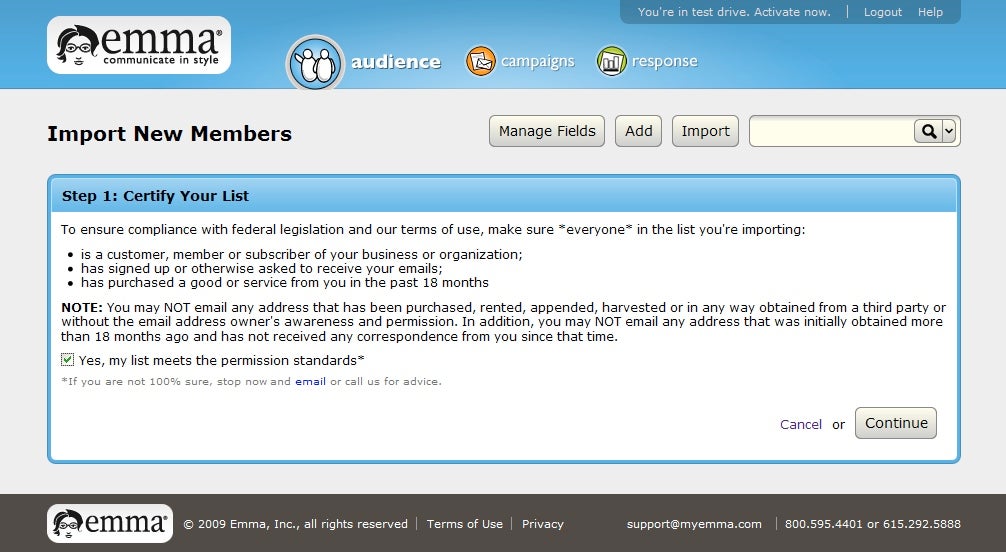 Emma, like its competitors, imports your current database of contacts after you pinky-swear that those people are okay with receiving e-mail from you. The CAN-SPAM Act says that people you e-mail need to have requested messages, need to have bought a good or service from you recently, or need to have otherwise established a relationship with your business. More important, don't cross the line between sending occasional marketing messages and spamming; overdoing it can cause more harm than sending out nothing at all.
From your e-mail application, export a CSV file full of the contacts. For example, in Outlook, choose File, Import and Export. Choose Export to a file and click Next. Choose Comma Separated Values (Windows), and click Next. Select Contacts, click Next, name the file, and click Next. Click Finish.
In Emma, choose Audience, Import, and click Create a new import. Click Manage Fields. Emma will normally import just names and e-mail addresses. In this area, you can set it to import phone numbers, physical addresses, and other details to tailor later mailings.
Use the Add more fields pop-up menu to pick Mobile Number, for example. Click Add. Repeat the process as needed, or click Create a new field for a custom choice. Click Save & Exit.
Click the checkbox to say that you're importing approved addresses, and then click Continue. Click Upload a File. Click Browse, pick the CSV (or .xls) file, and click Continue.
In the next page, match your fields to Emma's database options. Use the drop-down menus to select the proper kind of data, such as linking the E-mail option with the row of e-mail addresses. Click Continue. Choose either Add Only or Add & Update. If you import addresses again in the future, the former selection adds only new addresses, while the latter adds new ones and overwrites duplicates with data in your CSV file.
Pick a group for the contacts to join; you'll send out mailings based on your groupings. You can change the organization later, but it's easiest to do this right now. If necessary, type a new group name, and click Add. Click Continue. Review everything once more, and click Import. Depending on the size of the list, importing everything could take several minutes.
Create a Custom Message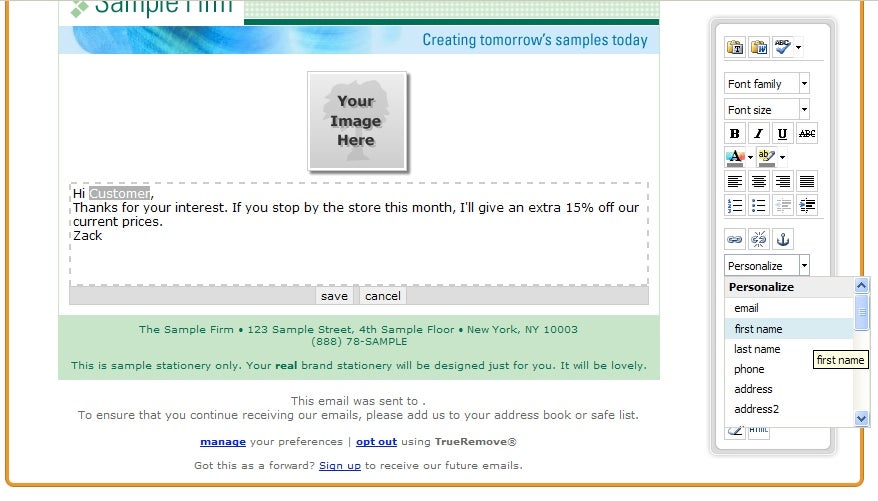 Any good campaign service should be able to send mailings to a targeted audience with personalization features in each message, such as greeting recipients by name. To do this in Emma, click Campaigns, and then Get Started.
Enter the basic details in the About this Mailing box at the top of the screen: Add a name for your organization and a subject line, and pick one of your templates and layouts.
Next, choose click to edit within the Your Mailing section. You can enter the text for your e-mail, but you'll probably be better organized if you write that in a word processor and then copy the text over. Click either the T or W icon (depending on if you copied from a plain-text editor or from Microsoft Word), and paste. Afterward, if you want to create or modify formatting, use the options on the right.
Within the e-mail, select any area to customize for a recipient. For example, maybe you wrote Dear Customer, as the generic heading; double-click Customer. In the formatting area on the right, click the Personalize menu, and select the correct field. In this case, choose first name. By managing custom fields when importing contacts, you could have the e-mail reference the recipients' favorite sports teams, job title, company, or anything else.
Click save. Many of your recipients will view HTML messages as plain text, so be sure that the text layout looks okay, too. Select the Plain Text tab, and click Update to make changes.
In the Personalize Your Mailing section, enter text options for cases where you're missing data in the customization field. For example, enter Customer to greet someone for whom your list has an e-mail address but no first name. Click Update Placeholders.
Click the Save & Preview tab at the top of the screen to verify everything. Select the Proof tab to run Emma's automated quality check, which looks for links or words that are likely to trigger junk mail filters.
Choose the Send tab and click Continue. Pick your audience group from the pop-up menu, and click Continue. On the final screen, choose Send Now or select Schedule It to have the message delivered later.
Send to a Targeted Audience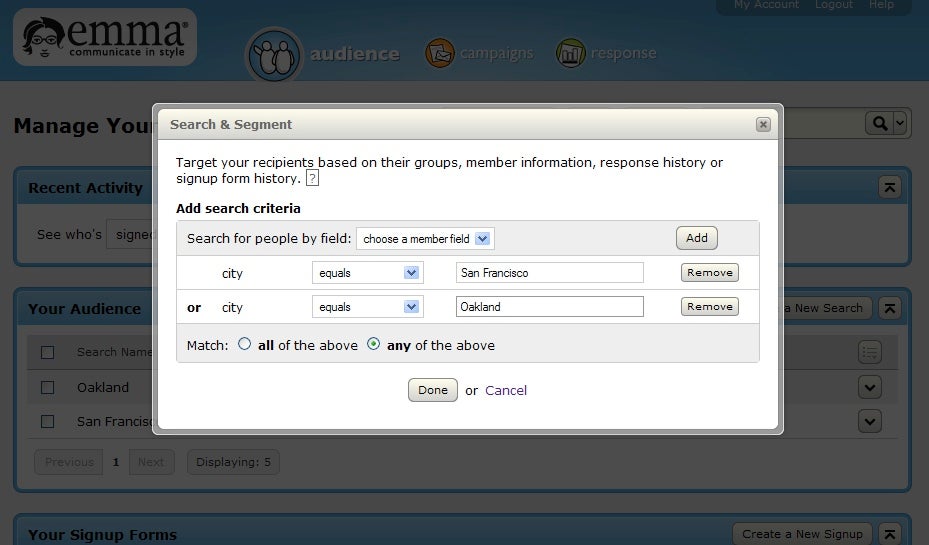 You can send to a specific audience, increasing the likelihood of a reader's reply. For example, if you have a retail business that operates online and in a single physical location, you could send a store-specific mailing only to local customers.
Click Audience, Searches, and choose Create a New Search. Pick Member Information from the menu. Click Add. Select City and click Add. Enter your city name, and click Done. Enter your city name again, and click Save. Depending on the data you have available, you could set this search based on phone number area code, zip code, state, or other regional details.
The next time you send a mailing, choose the Searches tab when applicable, and pick the saved item.
Track Results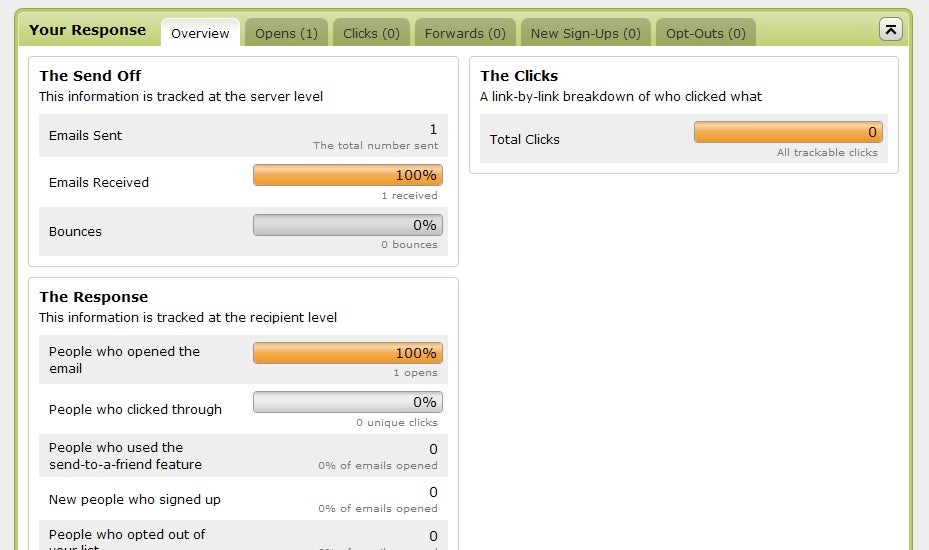 You can track your e-mail to see how well it performed, viewing data about how many people opened it, how many of them clicked the links, and other details. Note that while this information can give you a sense of results, it will never be fully accurate. Mail-campaign services track messages by embedding links to graphics; if the recipient has their e-mail client set to avoid such downloads, Emma won't know the message was opened. Additionally, Emma knows about forwarded mail only if the recipient forwarded the message with the embedded link, not with their application's Forward button.
Even with those limitations, the service's tracking features can give you a good general picture. Click the Response button at the top of the screen to see how your campaign performed; you can choose a single mailing name, or select more than one and click Compare Mailings.
If people aren't opening your messages, maybe the subject line is too confusing or uninteresting. Or maybe you're just sending to the wrong audience. If you want to scrutinize the data in your own spreadsheet or database, click Export Responses in the upper-right.