'Fix' Facebook's New Home Page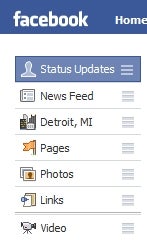 Hey, Facebook: Ever hear the saying, "If it ain't broke, don't fix it"? Guess not, because your recent front-page "fix" has many users fuming. (Maybe that's because you sprung it on us without warning or explanation.)
Anyway, for those who don't like the mysteriously disparate "News Feed" and "View Live Feed," there's a simple way to make Facebook work more or less like it used to. Here's how:
1. Go to your Facebook home page, then click the More link at the bottom of the lefthand column.
2. Find the Status Updates option, then click and drag it to the very top of that column.
3. Now click Status Updates to load that view. Presto! You'll get your feeds the way you did before last week's unwanted change.
Note that the News Feed option is still there in the lefthand column; clicking it brings up the new view. Hey, who knows, you might decide you like it after all.