Page 3 of 3
USB Flash Drive Programs
USB flash drives are designed to be portable, just like your laptop. But they can be problematic--for one thing, how can you make sure that your files aren't compromised in the event that you lose your drive? We have a few downloads to help with that, and more.
PortableApps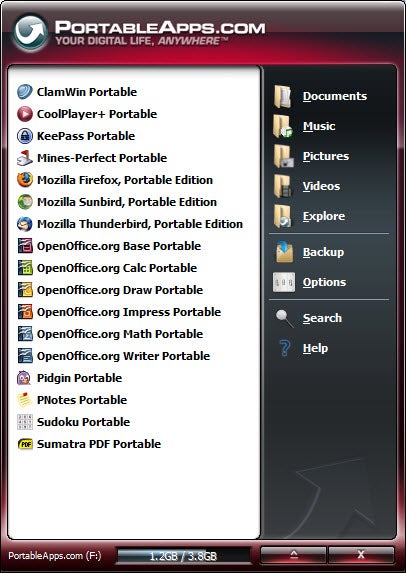 If your laptop or netbook has only a modest hard drive, you may not be able to fit all of your applications on it. Microsoft Office, for example, can occupy plenty of hard-disk space and leave you little room for anything else.
With PortableApps, you won't have that problem. In this download you get a full suite of free applications, including OpenOffice.org, which has a word processor, a spreadsheet, a presentation program, a database, and a drawing program. You'll also find an antivirus utility, a slimmed-down version of Firefox, and more. In addition to the applications, you get backup software, plus a menu that makes accessing all of the programs easy.
The Light version takes up just 150MB installed, and the more full-featured Standard version consumes 355MB. You can install the software on your laptop or netbook, of course, but to save space you can install the programs on a USB drive and even run them from there. You can store your data on the USB drive as well. No matter how little storage space your laptop or netbook has, you'll be set.
Download PortableApps Standard | Price: Free
Download PortableApps Light | Price: Free
TrueCrypt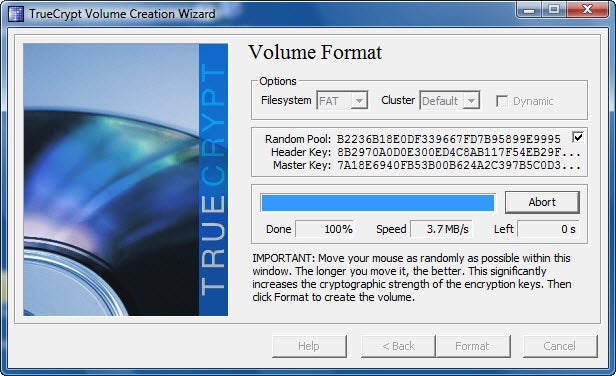 USB drives are a great way to carry work with you when you travel. They're light, they're cheap, and they have enough capacity to handle large image files, hefty documents, and entire presentations. But you can easily lose or misplace them--a serious problem if your files are personal or sensitive.
The free TrueCrypt does an excellent job of keeping your files safe from prying eyes, even if your USB drive falls into the wrong hands. You get a choice of many different encryption algorithms, including the powerful 256-bit AES and 448-bit Blowfish methods. The program will not just encrypt the files and folders, but also hide them so that no one but you knows that they are there.
This isn't the most intuitive of programs to work with, so take some time to read the manual and be sure to use the program's built-in wizards.
Download TrueCrypt | Price: Free
USBDriveFresher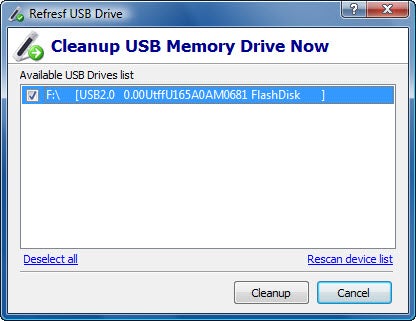 The more you use a USB drive, the more it becomes cluttered with excess files. For example, your drive may have old Thumbs.db files, which Windows uses to display thumbnails of pictures--but if you don't keep the pictures themselves on the drives any longer, there's no point to retaining the .db files. You may also notice odd file names that start with underscores, and other weird bits and pieces that serve no apparent purpose.
USBDriveFresher is a simple little program that automatically cleans the clutter for you. Run it, and it sweeps out unnecessary files so that the drive contains only the items you want. You can have the program do its work automatically whenever you plug in a USB drive, or else manually run the app. You can also customize which files it should clean.
Download USBDriveFresher | Price: Free