Can Droid Phones Take Care of Business?
The Motorola Droid and the HTC Droid Eris, both available via Verizon Wireless in the United States, proved to be surprisingly good phones in my initial tests. I was surprised that the consumer-oriented
in many key respects than the Motorola Droid, thanks to better UI choices.
But the two new Google Android phones lack basic security capabilities that make them unusable in many business environments, and their utter lack of management features mean that even where businesses can acept their security limitations, they won't be able to deploy them in large numbers. Worse, it appears that the Droids don't support Exchange ActiveSync policies, so many Exchange servers won't grant them access. When it comes to Exchange, Droid doesn't.
[ Learn which smartphones support your business's Exchange security and access policies. | Find out Android 2.0's real odds of unseating the iPhone in "Android 2.0: The iPhone killer at last?" | InfoWorld's Bill Snyder explains why business loses no matter who wins: iPhone or Android. ]

The Droids' Exchange Support isn't Reliable
I set up an Android 2.0-based Motorola Droid using a corporate data access plan, which costs $45 per month on top of voice and SMS charges, and an Android 1.5-based HTC Droid Eris using a regular data access plan, which costs $30 per month on top of voice and SMS charges. Both Verizon's corporate spokeswoman and the local Verizon Store's sa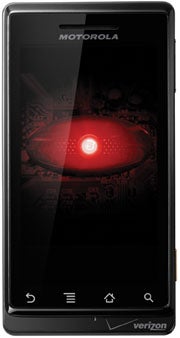 les staff had told me I needed a $45-per-month corporate plan (even as an individual user) to access corporate e-mail Exchange servers, although some Web sites claim that is not true.
Here's what happened to me in real life, acting as a regular consumer: I was not able to set up access to my Exchange account on the consumer $30-per-month plan. And when I went into the Verizon Store and mentioned that I was going to access corporate e-mail on the Motorola Droid, the staff told me I had to buy the $45-per-month plan even though the phone was not on a business account. I said I would not use Exchange on the HTC Droid Eris -- which I activated on the same "family" account as the Motorola Droid -- and was charged just $30 per month for that device's plan.
But it didn't really matter whether I paid $30 or $45 for my plan: I could not get the built-in Android Email application to access my e-mail. And a check of the Droid user forum showed that I am by no means alone -- the problem is afflicting many others, including Exchange administrators for whom (like me) Exchange access works just fine on other devices. Some users reported that they finally got e-mail in their inboxes after 24 hours, but no such luck for me yet. (Verizon's tech support agent was unable to help, because the support documents had no recommendations. Motorola's agent was one of the mosty clueless support agents I've ever encountered, and unable to help.)
The Motorola Droid did let me set up my Exchange account, but it could not retrieve e-mail using the built-in Email app -- it simply continued to show a blank inbox for that account even after 24 hours. At first, it also did not send e-mails from the Exchange account, leaving the messages in the Drafts folder instead. But after I powered the Droid down to reset it, finally it did send e-mails via Exchange -- even though it was still not receiving them.
The Motorola Droid did immediately sync to my Exchange calendar, but not my Exchange contacts. (And note that the Droid's calendar does not let you accept invitations you receive, although you can send invitations.)
The HTC Droid Eris let me set up my Exchange account on the device, but it displayed a "cannot set up account at this time" error message when I tried to finish the setup and begin the sync with Exchange. On other devices, this is typically a sign of an ActiveSync policy support mismatch. The Droid Eris also could not sync my Exchange calendar or contacts.
Note that I had no trouble setting up POP e-mail accounts on both devices. And the manager at the local Verizon Store showed me his Droid, which was connected to Verizon's own Exchange server, so it's clear that the Droid can connect to Exchange servers in some circumstances -- it's just not clear which ones.
Android's Exchange ActiveSync Policy Support is Unclear at Best
I found a workaround that seemed to solve the issue: Using the $10 Exchange by TouchDown app from NitroDesk instead of the built-in Email app worked perfectly on both the Motorola Droid with the corporate access plan and the HTC Droid Eris with the consumer access plan. I go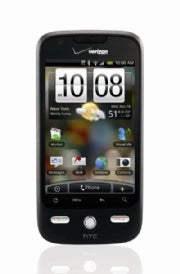 t access to my e-mail, the ability to decide which folders would be automatically refreshed, access to my corproate address book, and all the features you'd expect from a good Exchange client. TouchDown is even better than the iPhone's built-in Mail app, as TouchDown lets you schedule away notices, while the iPhone's Mail app can't do that.
But it turns out that Touchdown inaccurately reports the Droid's ActiveSync policy support, according to NitroDesk's support staff. "You should not be using Exchange by Touchdown in its current version because it may indeed be reporting EAS [Exchange ActiveSync] policies incorrectly in the current version. The next version will report it correctly. ... We had been waiting for encryption support at the file level for Android databases, but it may never get implemented," the support staff e-mailed me. NitroDesk is looking to add its own encryption at the field level and has beguin beta-testing that capability, although the invitation to join that beta program notes it could slow down the Droid. NitroDesk did not say whether other Exchange ActiveSync policies are being inaccurately reported.
This false reporting in Touchdown is a security hole similar to the one in Apple's iPhone OS 3.0, which falsely reported support for on-device encryption for a year, until the 3.1 update fixed that and as a result left many pre-3G S model iPhones unable to connect to Exchange servers that required on-device encryption.
My company's Exchange server does require on-device encryption, and I strongly suspect that is why neither the Motorola Droid nor Droid Eris could access my Exchange e-mail using the built-in Email app. Verizon's tech support staff (not even the internal support folks that the local Verizon Store manager called for me) could not say whether or which Exchange ActiveSync policies were supported, and neither could a Verizon corporate spokeswoman. Google's, Verizon's, Motorola's, and HTC's Web sites are silent about ActiveSync policies. Verizon's support staff also did not know what the on-device encryption even was (the rep I spoke to thought it was the same as SSL encryption) and could not find any documentation about it; again, Google's, Verizon's, Motorola's, and HTC's Web sites were silent on the Droids' on-device encryption capabilities.
This silence mirrors the same same silence I encountered when I asked Palm, Nokia, and Apple similar questions about their devices. It's all but certain that Palm's WebOS and Nokia's Symbian OS do not support ActiveSync policies. It's a good bet that the Android OS doesn't support ActiveSync policies either. Apple's iPhone supports a handful of ActiveSync policies, based on the vague details posted at Apple's site. Windows Mobile devices support most ActiveSync policies, and the BlackBerry OS uses its own server to manage policies.
Given that more businesses use Exchange than any other enterprise-class e-mail server, the uncertainty over the Droids' level of Exchange support, the revelation that Touchdown inaccurately reports at least on-device encryption ActiveSync policy support, and the fact that the Droids don't support IBM's Lotus Notes or Novell's Groupwise secured connections, I can't imagine any responsible business or IT department permitting the use of the Droids for corporate e-mail access. Thus, for business e-mail use, RIM BlackBerry remains the most secure mobile device, followed by Windows Mobile, and -- in distant third place -- the Apple iPhone.
Verizon spokeswoman Brenda Raney wasn't kidding when she told me, "The [Motorola] Droid is primarily a consumer phone." (To be fair, the HTC Droid Eris makes no pretense, other than its stated Exchange support, of being a business smartphone.)
Security Capabilities Limited, Management Capabilities Nonexistent
The Droids also have limited security capabilities. Both let you set up "pattern" security to access the devices at startup or after they time out: You set a pattern of finger movements on the touchscreen that acts like a password would. (That's harder for a thief to guess than a traditional password.) And the Motorola Droid lets you store credentials on the device and set an alphanumeric password to manage them. And that's it. You can't set password strength requirements, enable remote wipe or auto-wipe after a specified number of failed access attempts, or control access to apps and Wi-Fi networks, as the iPhone, Windows Mobile, and BlackBerry devices can do. (The Touchdown app does let you set a four-digit PIN before making e-mail, appointments, and contacts available.)
And -- like the Palm Pre and Nokia Nx devices -- the Droids have no management capabilities, such as remote provisioning from a management console, which lets IT set up and manage users' devices without needing physical access to the device. BlackBerry and Windows Mobile have long had such capabiities. Although the iPhone dosn't have enterprise-level configuration capabilities, it does support e-mail and Web-based profiles that can be downloaded by the user for installation, as well as a management utility that lets IT administrators install such policies over a USB connection. That's much more than the Droids can do.
The bottom line is clear: If an IT organization considers the iPhone to be too unsecure or hard to manage, there's no way it could consider the Droids as supportable mobile devices.
Related articles
Android 2.0: The iPhone killer at last?
Get past the hype: Here's the real deal on Android's chances to unseat the iPhone
Android vs. iPhone: Business loses either way
The battle to win users' hearts -- and wallets -- has one clear loser: IT
Video: the first smartphone powered by Android 2.0
Motorola and Verizon unveil their hoped-for 'iPhone killer,' the Droid

The iPhone 3.0 OS takes on some of the BlackBerry's advantages for business users. See where the iPhone wins over the BlackBerry, and where the BlackBerry still prevails
Mobile deathmatch: Palm Pre vs. iPhone, side by side
Which mobile device can do the most for you? See what each can do -- or not -- in this comparison
7 myths about iPhone Exchange policies
Misinformation about connecting iPhones to corporate networks could get your business into serious trouble
The other iPhone lie: VPN policy support
The iPhone OS 3.1 fixed false reporting about Exchange policy adherence. It turns out that a similar flaw existed for VPN policies, too
Apple betrays the iPhone's business hopes
Apple's fix of a security hole reveals a long-simmering flaw and makes many iPhones suddenly incompatible with Exchange
How to avoid the smartphone Exchange policy lie
Just because a mobile device says it supports Exchange policies doesn't mean it does. Case in point: Apple's iPhone
Can you manage an iPhone like a BlackBerry?
Apple's iPhone 3.0 OS and iPhone Configuration Utility 2.0 extend the iPhone's enterprise-class management and security features. The InfoWorld Test Center sees how far they really go
21 apps Apple doesn't want on your iPhone
Worthwhile productivity apps you won't find at the App Store
The no-junk business iPhone apps finder
InfoWorld's interactive catalog of iPhone apps designed for businesses, professionals, and IT staff
This story, "First look: Motorola Droid, HTC Droid Eris are risky for business," was originally published at InfoWorld.com. Follow the latest developments in mobile, Google Android, iPhone, and Microsoft Exchange at InfoWorld.com.
For comprehensive coverage of the Android ecosystem, visit Greenbot.com.