Page 4 of 5
Ease of Use: Comparing Apples to Lemons?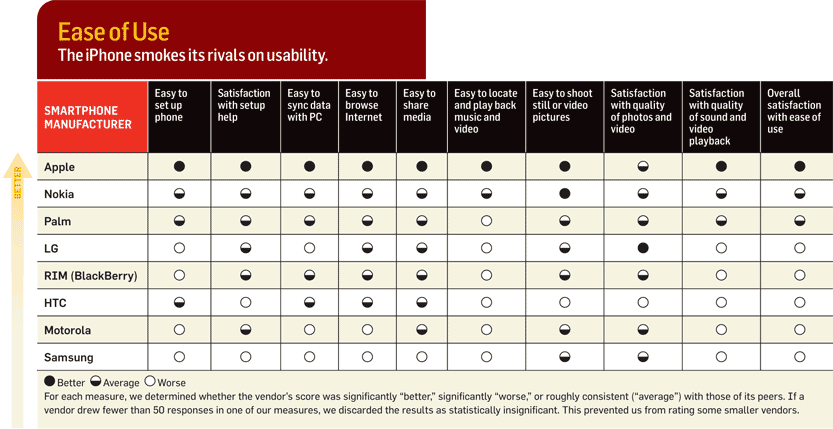 According to our survey takers, Apple's iPhone remains in a league of its own when it comes to ease of use. Part of the vast appeal of the device is its design--inside and out. Aesthetically pleasing, the iPhone's user interface looks simple and intuitive, helping owners access its many functions. (Click on the chart image to see our survey results on the ease of use of smartphones from various major manufacturers.)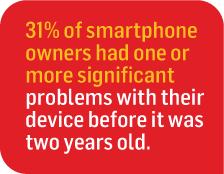 We asked smartphone owners ten questions about the ease of use their handsets, including how satisfied they were with the ease of using nine of the most important functions--things like browsing the Internet, syncing data, sharing files, taking pictures, and playing music and video.
The iPhone scored higher than its peers in all but one of those areas (users gave the iPhone only an "average" score on the quality of the photos and videos it shoots). When asked about their overall satisfaction with their phone's ease of use, 82 percent of iPhone owners said they were "very" or "extremely" satisfied with their device.
Apple Will Be Challenged
But this state of affairs won't last. A new wave of Google Android-powered phones, such as Verizon's Droid, will almost certainly rival the iPhone in ease of use. At the time of our survey, however, the new Android phones were not in use in high enough numbers to affect our results. Next year's survey will likely tell a different story.
"According to the feedback I've gotten from companies that design user interfaces for smartphones, the consensus is that the iPhone interface has gotten a little dated," IDG mobile device technology analyst Will Stofega says.
With Android, Stofega adds, Google "has done a very nice job on its interface, and I expect it to be very popular, depending on how it's implemented."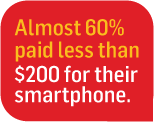 And Android phones won't be the only ones gunning for Apple's ease-of-use throne in the coming months. Stofega points out that Nokia is pushing hard to develop its own Symbian operating system to meet and surpass the ease-of-use standard that the iPhone set. New phones using this updated and touchscreen-friendly operating system should begin appearing during 2010.
But today, Apple simply dominates its competitors in design. Apple's closest rival in this area was Nokia, which earned just one higher-than-average score--that for the ease of use of the cameras in its smartphones. Nokia placed second in "overall reliability," but with a paltry 59 percent of owners reporting high satisfaction with ease of use.
Among those fairing most poorly with survey takers in ease of use were HTC, Motorola, RIM (BlackBerry), and Samsung. Asked about the overall ease of use of their devices, 55 percent of BlackBerry users were completely satisfied, while just 45 percent of HTC owners, 43 percent of Samsung users, and 42 percent of Motorola phone users were completely satisfied.
Samsung owners gave their phones worse than average marks in all ease-of-use categories save two--both having to do with the video cameras in the phones. (Samsung chose not to release any comments on the results of our survey.)
Motorola users expressed frustration with the ease of setting up their phones, syncing data with computers, browsing the Internet, and locating and playing back music and video. Motorola phones also received below-average marks on the sound and video quality they produce on playback.
Common complaints among all users included difficult -to-use keyboards, slow-to-respond touchscreens, clumsy file management, hard-to-use cameras, poor sound quality, and difficult or slow syncing. Others complained of user interfaces that are hard to customize, cameras that take pictures when not asked to, operating systems that don't multitask, and browsers that won't play Flash content.
Next: Reliability