First Look: Google's Chrome Operating System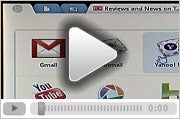 PC World Senior Editor Robert Strohmeyer downloaded an early build of the new Google Chrome OS, which is designed to run with low overhead on mobile devices such as netbooks. Here's what he found.

Amazon Shop buttons are programmatically attached to all reviews, regardless of products' final review scores. Our parent company, IDG, receives advertisement revenue for shopping activity generated by the links. Because the buttons are attached programmatically, they should not be interpreted as editorial endorsements.