Looking through Apple's App Store, it's easy to get lost in the numbers. From December 2008 to November 2009, some 90,000 apps arrived in the online store, bringing the total number of mobile applications available for your iPhone or iPod touch to more than 100,000. It's a little bit overwhelming.
We're here to help. We've spent the past year looking at as many iPhone apps as possible to find the ones deserving of accolades. We've come up with 20--one for each slot on your iPhone's home screen--that cover a wide array of categories. From games to Twitter clients, from productivity tools to photo editors, these are the apps that caught our eye over the last 12 months. And they're the ones that deserve to be ranked first in their class.
Best Messaging App: BeeJive IM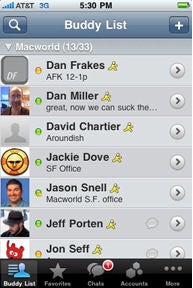 Apple may not have deigned to include native instant-messaging support for the iPhone, but that's just more opportunity for third-party apps like BeejiveIM ( Macworld rated 4 out of 5 mice ). The $10 best-in-class IM app from Beejive brings most of the conveniences of the desktop IM experience to the iPhone--and that includes the ability to quickly switch between simultaneous conversations, support for multiple services, and integration with the iPhone's address book. You can even use BeeJive to send and receive images and other files. As of iPhone 3.0, the app supports push notifications, meaning that you can at long last use your iPhone for other tasks while still staying in the loop.--DAN MOREN
Best Photo App: Best Camera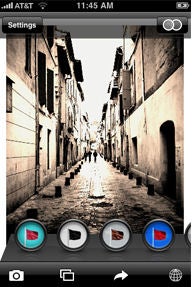 Part image editor, part social media tool, Best Camera ( Macworld rated 4 out of 5 mice ) reminds you that taking photos should be fun. The $3 app from Ubermind includes 14 image effects--including vignetting, warming, and high-contrast black-and-white--which you can layer to create seriously gorgeous images. I've been impressed at how well the filters work on a wide variety of images. Once you're happy with the results, you can e-mail them to yourself, save them back to the Camera Roll, or upload them to Facebook, Twitter, or the Best Camera Website. That last option--which connects you to an active online community--is where Best Camera really stands out. The app lets you view and vote for photos submitted by other iPhone photographers, supplying endless inspiration.--KELLY TURNER
Best Notification App: Boxcar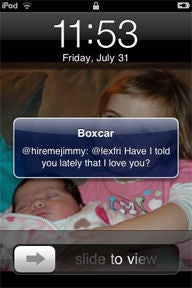 When iPhone OS 3.0 added push notifications to the iPhone's bag of tricks, Apple's already awesome mobile device became even more so. Of course, if your favorite app didn't support push notifications, it was harder to partake in the awesomeness--until Boxcar ( Macworld rated 5 out of 5 mice ) came along. The free app from Appremix enables push notifications for three of the most common Internet services you care about--Twitter, Facebook, and em-ail. You tell Boxcar which account(s) to monitor, and it lets you know within minutes when you have new Twitter mentions, Facebook comments, or whatever else you want to be informed about. Boxcar doesn't replace your favorite Twitter apps (or Facebook or Mail), but it makes them--and the iPhone itself--a heck of a lot more immediate.--LEX FRIEDMAN
Best Painting App: Brushes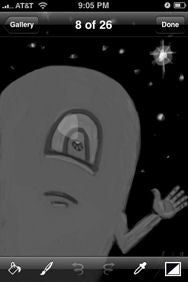 Few would argue the notion that the iPhone packs a lot of power into its 4.8-ounce frame, making it a mini-computer as much as it is a phone. But to use Brushes ( Macworld rated 4.5 out of 5 mice ) from Steve Sprang is to experience that power first-hand. Built specifically with Apple's mobile devices in mind, the $5 Brushes puts an advanced color picker, a variety of brushes, and layers at your disposal for creating works of art right on your iPhone screen. The app is advanced enough to create a magazine cover--as artist Jorge Colombo did for The New Yorker --yet easy enough to navigate so that any user can derive some enjoyment from letting their fingers do the painting.--PHILIP MICHAELS
Best News App: CNN Mobile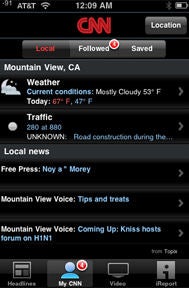 When it comes to mainstream news organizations releasing iPhone apps, CNN was late to the party, with its $2 mobile offering arriving in September. But the wait was worth it--CNN Mobile ( Macworld rated 4 out of 5 mice ) is a stellar example of how the iPhone can change the way we receive--and contribute to--the news. You get the latest and most popular CNN stories and videos, formatted specifically for the iPhone. But you also get non-CNN local news, weather, and traffic. You can follow specific articles and topic areas, receiving alerts when new or updated content is published; save stories for offline reading; and share stories via e-mail, SMS, Twitter, and Facebook. Perhaps most impressive, however, is that you can contribute your own videos and photos to CNN's iReport section directly from your phone, making you the reporter.--DAN FRAKES
Best Book App: Eucalyptus
Eucalyptus ( Macworld rated 4 out of 5 mice ) earned a measure of notoriety in 2009 when Apple temporarily barred the e-book app from the App Store. (Among the thousands of books contained within the app, you'll find The Kama Sutra, which the App Store's gatekeepers deemed to be too explicit.) What Eucalyptus really deserves, though, is praise. This $10 app is, by far, the most elegant e-book reader for the iPhone and iPod touch. Amazon wishes its Kindle app was as refined as Eucalyptus, an e-book app for serious readers from Things Made Out of Other Things. In time, perhaps, you will be able to import books from other reader formats or e-book retailers, such as Amazon or Fictionwise. For now, Eucalyptus will gorgeously display any of the tens of thousands of public-domain works from Project Gutenburg. The app is proof of how pleasurable reading a book on a small, handheld device can be.--BEN BOYCHUK
Best Social Networking App: Facebook 3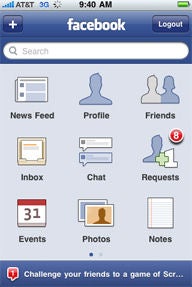 The third major update of the Facebook iPhone app offered a massive interface overhaul--and a successful one. A notifications alert appears at the bottom of the screen, you can now see and update pages, and upload photos and videos. The main menu has been updated to provide quick access to common tasks, and you can swipe to a new area where you can add favorite people and groups in order to read their updates. Now Facebook isn't just usable on the iPhone--in some ways, it feels better than the full version of the site.--JASON SNELL
Best Casual Game: Flight Control
Flight Control ( Macworld rated 5 out of 5 mice ) from Firemint wouldn't exist without the iPhone. The delight of dragging (and endlessly re-dragging) paths for a constant influx of landing planes is inextricably tied to the fact that you use your finger to do it.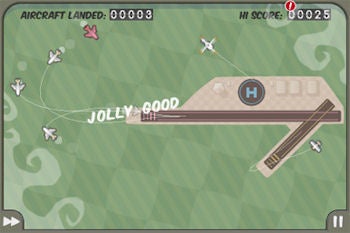 The $1 game looks great, and each element--the paths you trace, the blinking signal of approaching planes from off-screen, the red warning of planes on a collision course--feels right at home on the iPhone. The multiplayer mode works over both Wi-Fi and Bluetooth, and overall, the gameplay is as elegant as it is addictive.--LEX FRIEDMAN
Best Search Tool: Google Mobile App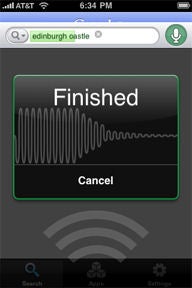 It's difficult to remember a time when Google wasn't waiting at our beck and call to track down whatever information we needed. It may soon be equally difficult to remember how we got along with our iPhones without ready access to the Google Mobile App ( Macworld rated 4 out of 5 mice ). Google's free one-stop-shop offering for the iPhone and iPod touch lets you search effortlessly--all you have to do is talk to the machine. An easy-to-use voice search feature added late in 2008 improved upon Google's initial mobile effort by locating what you're looking for, usually in seconds flat. While the apps tie-ins to secondary services like Gmail or Google Docs remain flawed, Google Mobile App's voice search capabilities speak volumes about this utility's worth.--BEN BOYCHUK