Macworld's 2009 App Gems Awards
Best Reference App: iBird Explorer Plus
iBird Plus ( Macworld rated 4.5 out of 5 mice ) from Mitch Waite Group exemplifies all that is possible in a pocket-sized reference application. Detailed, informative, beautifully illustrated, and thoughtfully designed, the $20 iBird gives you access to a wealth of birding information. While information alone would be enough to keep iBird on par with its book-based contemporaries, iBird also gives you the tools you need--from photos and audio of bird calls, to Web resources and search tools--to identify the birds you see, compile lists of favorites, and collect notes on when and where you've seen them. In short, iBird is what you hope every other iPhone field guide aspires to be.--JEFFERY BATTERSBY
Best Reader: Instapaper Pro 2
Marco Arment introduced Instapaper to wide acclaim in 2008. But he topped himself in 2009 with Instapaper Pro 2 ( Macworld rated 4.5 out of 5 mice ). At the heart of this $5 version of Instapaper is the ability to download articles to the iPhone or iPod touch and read them anytime, anywhere, with or without a Wi-Fi connection or a cell phone signal. With its nifty tilt-scroll feature, the app is ideal for reading long articles or blog posts. Arment built on his app's earlier strengths by giving users more tools to organize stories, while adding an RSS-like feed feature and intriguing new social network functions, such as Give Me Something To Read. You will never lack for interesting reading with Instapaper Pro installed.--BEN BOYCHUK
Best Multimedia App: MLB.com At Bat 2009
No app developer has been more aggressive in embracing the iPhone than Major League Baseball. MLB At Bat ( Macworld rated 4.5 out of 5 mice ) was introduced in 2008 with support for live baseball scores and in-game video highlights, but has rapidly added full pitch-by-pitch Gameday views, streaming audio of both home and away radio broadcasts, and finally, live streaming video of games.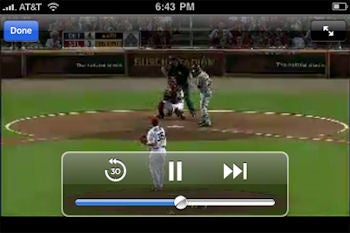 (Premium MLB video subscribers get all but local games; everyone else gets a free "game of the day.") The pace of the updates to this app has been breathtaking, so we can't wait to see what next season brings. When do pitchers and catchers report again?--JASON SNELL
Best Education App: Pocket Universe
Pocket Universe ( Macworld rated 5 out of 5 mice ) is a marvel. The $3 app from Craic Design puts the entirety of the nighttime sky in your pocket, a feat which makes the iPhone feel truly amazing. Using GPS on the iPhone 3GS or Location Services on other iPhones and the iPod touch, Pocket Universe can figure out almost exactly where in the sky you're looking, and identify all the celestial bodies around. The app can guide your gaze to help you find a constellation or planet you can't pick out on your own, and lets you know which heavenly objects you should be able to spot with your naked eye each day. The app works beautifully, making astronomy a bit less mysterious--but no less remarkable.--LEX FRIEDMAN
Best E-Mail App: Postage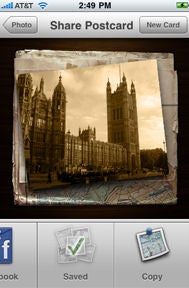 Plenty of apps let you edit photos on your iPhone or iPod touch. Plenty more give you a way to connect with friends and family. Postage ( Macworld rated 5 out of 5 mice ) from Rogue Sheep allows you to do both, in about as elegant a package as you'll find on the App Store. With the $5 Postage, you create electronic postcards out of the photos stored on your mobile device, zooming and rotating your images so that they perfectly fit the app's growing number of templates. Use one of the 10 included photo effects, style a message, and share your Postcard via e-mail, Facebook, or MMS. It's just about the perfect way to share holiday snaps and vacation photos in an app that's designed to feel like a natural extension of the iPhone's capabilities.--PHILIP MICHAELS
Best Designed Game: Ramp Champ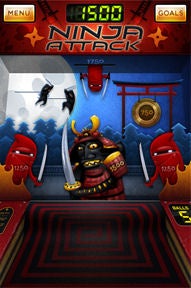 The best ball-rolling game on the iPhone isn't the best-selling Skee-Ball, but the exquisite Ramp Champ ( Macworld rated 4.5 out of 5 mice ). The gameplay in The Iconfactory's game is what you'd expect: flick your finger to roll a ball up a ramp and knock over various objects. It sounds simple, but it's remarkably challenging for kids and adults alike. Each level is based on a different theme (space invaders, ninjas, pirates, and so on) and features beautiful graphics and delightful sound effects. The red carnival tickets you win can only be redeemed for virtual prizes, but playing Ramp Champ is its own reward.--JASON SNELL
Best Sports Game: Real Soccer 2010
Some fantastic sports games have hit the App Store in the past year, but the $5 Real Soccer 2010 ( Macworld rated 4.5 out of 5 mice ) from Gameloft is top of the table, thanks to a combination of terrific graphics, fun gameplay, and solid multiplayer features. The wealth of teams and accurate rosters combined with the plethora of new modes--including ones that let you play an entire season or chart a specific player's development-- offer a staggering amount of depth.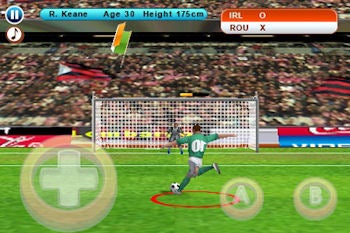 The multiplayer and social capabilities are easy to understand and diverse; getting your team on the pitch involves only a few simple finger taps. While FIFA 10's beautiful visuals and terrific penalty kick system made it a strong contender this year, Real Soccer's stellar multiplayer, intuitive controls, and superior AI are what ultimately pushed it over the top.--CHRIS HOLT
Best Shopping Tool: RedLaser
RedLaser ( Macworld rated 4.5 out of 5 mice ) exploits every part of your iPhone to turn your phone into an indispensable shopping companion. The $2 app from Occipital uses the iPhone's camera to scan the barcode of products that you might buy; it then hits the Internet to pull down a list of prices so you can see if you're getting a good deal. Better price online? Then, with a few taps, RedLaser lets you jump to a merchant's online site to close the deal or e-mail yourself the details if you prefer to do your online shopping from a desktop. RedLaser works best with the improved camera on the iPhone 3GS, but you can still get your money's worth with older iPhones. In a tight economy, the $2 price of this app is money well spent.--PHILIP MICHAELS
Best Platform Game: Rolando 2
Ngmoco's excellent Rolando and its sequel, Rolando 2, are games that take advantage of the iPhone's features like none other. You guide the rolling Rolandos on adventures by tilting your device back and forth, and you use the iPhone screen's natural tap and pinch conventions to alter your view. Combining action with puzzles, and featuring a fun, modern soundtrack and brightly-colored characters, both games are great.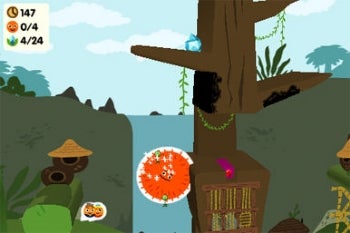 The sequel advances the game by adding more depth, a wider variety of characters, and a reduction in the ways you can accidentally kill your Rolandos. These are games that could only exist on the iPhone.--JASON SNELL
Best Strategy Game: Strategery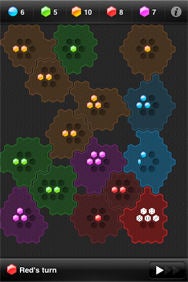 There is no game I play on my iPhone more than Strategery ( Macworld rated 4 out of 5 mice). Though the $2 Risk-like game from Affogato sports an interface based mostly on multi-colored dots, Strategery looks attractive. But the real brilliance of the game can be found on its Options screen, where you'll see four difficulty settings, three map sizes, a pass-and-play multiplayer mode that supports up to five people, and several other settings that can dramatically affect how the game is played. As your Strategery skill develops, you can make the computerized opponents tougher and try other modes, quickly learning how your strategies need to evolve. Simple on the surface, Strategery offers depth that can--and will--claim hours of your time.--LEX FRIEDMAN
Best Twitter Client: Tweetie 2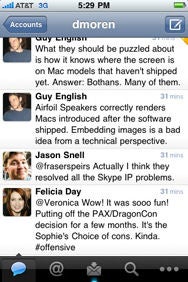 Twitter and the iPhone have become the chocolate and peanut butter of the technology world. And nobody swirls those two great tastes that taste great together into a more attractive package than Atebits with Tweetie 2 ( Macworld rated 5 out of 5 mice ). Its predecessor was one of the most popular Twitter clients in the App Store, but the $3 Tweetie 2 is new from the ground-up, incorporating a slick, elegant interface, support for multiple Twitter accounts, the ability to quickly search your timeline, and integration with a number of popular third-party services. But despite its manifold features, the software doesn't get in your way when all you want to do is tell the world what you're having for lunch.--DAN MOREN