Page 3 of 3
:-p
Since the 1980s, emoticons have been widely used on the Net to express happiness, unhappiness, slyness, shyness, contempt, and just about every other emotion that a human being can feel. Their predecessors date to the nineteenth century. But that hasn't stopped Johnnies-come-lately from going after emoticon-related patents and catching flak for doing so.
In 2005, Cingular (now AT&T Wireless) filed for a patent that was widely interpreted as claiming exclusive rights to use emoticons on phones. Some, however, said that it proposed only to patent a special phone key dedicated to producing emoticons.
The same year, Microsoft filed to patent something it called emotiflags--basically emoticons an e-mail writer could use to indicate a message's mood. It was granted the patent in 2009--even though Lotus Notes had long sported Mood Stamps, which are...emoticons an e-mail writer can use to indicate a message's mood.
Related offline legal tussle: In 2006, Wal-Mart unsuccessfully tried to trademark the yellow smiley face that's the most iconic emoticon of them all. The move showed a lot of hubris considering that Worcester, Massachusetts advertising artist Harvey Ball drew the first yellow smiley in 1963.
Hey, We Just Patented Podcasting!

In July, 2009, a media distribution and tracking company called VoloMedia--formerly known as PodBridge, and before that as AudioFeast--announced that it had been awarded a patent titled "Method for Providing Episodic Media," in which it outlines a system for distributing audio and video programs across the Internet. Sound a little like podcasting? Well, the company sure thinks it does: It titled its release trumpeting the news "VoloMedia Awarded U.S. Patent for Podcasting."
In a blog post, VoloMedia's Mergesh Navar said "we would expect new entrants into the podcasting arena to have a collaborative relationship with VoloMedia, just as do many of the current players." That sounded a little like a threat against would-be podcasters.
In a second post, Navar said that VoloMedia isn't a company that has "neither products nor technologies, but just obtain(s) and hold(s) patents to pursue infringing behavior through litigation." Which sounds a little less alarming--except that Navar isn't saying that VoloMedia won't sue. He's just saying that the company doesn't exist only to sue other companies.
VoloMedia may have patented podcasting, but did it invent it? Check out this 2001 blog post by RSS creator Dave Winer. It predates VoloMedia's first filing by more than two years, and seems to describe podcasting much as we have come to know it.
Mouse Trouble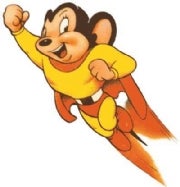 When Apple released a mouse called the Mighty Mouse in 2005, it carefully gained permission from Viacom, current owner of Mighty Mouse, the animated rodent who's been fighting crime since 1942. Viacom's ownership of the trademark was acknowledged in Apple ads. But Apple didn't get the blessings of Man & Machine, a small peripheral company that began selling a Mighty Mouse in 2004. In 2005, Man & Machine sued; in 2009, it was granted a trademark on the term.
(Side note: the crime-busting cartoon character fell afoul of similar trademark issues shortly after his debut: He was originally Super Mouse, until the owners of another Super Mouse complained.)
Apple solved its latest trademark problem with a new multitouch mouse with a noninfringing name: Magic Mouse. Let's hope that Warner Bros., owner of Merlin the Magic Mouse, doesn't notice.
I could go on--I haven't even mentioned the man who attempted to patent the Internet in 2004--but if you have your own favorite examples of patents or trademarks gone wild that aren't listed here, add them to the comments below.
(Former PC World editor Harry McCracken blogs at Technologizer .)