Best Games of 2009 for the iPhone: Macworld's 2009 App Gems Awards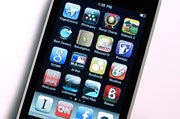 This week, our sister publication Macworld unveiled the 2009 App Gems Awards, celebrating the very best iPhone and iPod touch apps of the year. In this video, Macworld Editorial Director Jason Snell and Macworld.com Executive Editor Philip Michaels present the five winning games: Flight Control, Ramp Champ, Real Soccer 2010, Strategery, and Rolando 2.
For comprehensive coverage of the Android ecosystem, visit Greenbot.com.