Portable Hard Drives: A Terabyte in Your Pocket
Page 4 of 4
What You Want
The portable hard drive you buy should have a USB 2.0 port for universal connectivity. Of course, that's a bit like saying that the car you buy should have four wheels: It's nearly impossible to find a portable drive that lacks USB. Still, both FireWire and eSATA are handy options to have, too--FireWire 800, in particular. And the more data you transfer, the handier they become.
Toshiba's slower-than-average Portable Hard Drive 640 would have been on our must-avoid list, if not for its well-designed backup software. The Samsung S1 Mini is slow, too, but extreme portability and adept security software intercede on its behalf. WiebeTech's quad-interface ToughTech XE Mini sounds enticing--and if you're looking for eSATA speed, it has the goods. Because it can't run on USB bus power, however, you can't leave its AC adapter at home.
Seagate's FreeAgent Go portable drives win our nod for archiving or rotating backups; the dock and capacities are state-of-the-art even though the drives' USB performance is only middle-of-the-pack. WD's My Passport Elite is your best bet if you need a combination of small size and big USB performance. Rocstor's Rocbit FX KT should appeal to anyone who needs to satisfy strict security requirements, and Adata's SH93 is a winner if you need a portable drive that can survive a hiking trip.
For more advice before you buy, see "How to Buy a Hard Drive."
Dock It From Your Pocket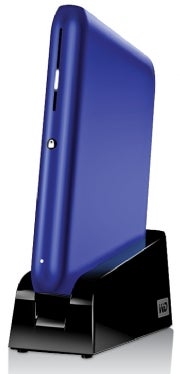 Vendors such as Seagate and Western Digital provide docking stations that obviate the need to fiddle around with a cable each time you connect the drive to your PC. A docking station may save you only a few seconds each time you attach the drive, but those seconds add up in the long run. Docking stations are also incredibly handy when you use multiple drives for rotating backups or archiving (storing individual projects on their own drives, as audio recording and photography studios often do).
Both Western Digital's My Passport Elite and Seagate's FreeAgent Go Special Edition ship with a dock. The Seagate dock's design seemed a bit better balanced than the WD dock's; but if you do a lot of swapping, a bit of double-sided tape wouldn't be out of place with either unit. Another point in favor of the FreeAgent Go docking system is that the much thicker FreeAgent Go 1TB will still fit in the standard Go series dock, thanks to a cleverly placed notch in its case. Now if only someone would make a FireWire 800 dock.
Shop Tech Products at Amazon