Page 2 of 2
Storage
Mac OS X has a better built-in backup utility than almost any other operating system -- simply connect a backup drive and Time Machine will do the rest. For a new Mac user to take advantage of this feature, he'll need the hardware to go with it -- usually an external hard drive.
Since Macs come with hard drives ranging from 160GB to 1TB, an external hard drive should accommodate that volume while leaving room to grow. A 1TB Western

Digital MyBook for Mac comes in at just under $100, depending on where you shop.
If you have a spare hard drive lying around, perhaps from a previous upgrade, you can be even more economical -- sticking it in an external case will cost just a few dollars and put an old drive back into service. Be sure the enclosure is the right one for an IDE drive or a SATA drive.
Gloves
If your new Mac user is a student, chances are he or she got a free iPod Touch with the purchase, courtesy of Apple's annual back-to-school promotion. Mobile devices with capacitive touch screens aren't the easiest to use during these cold winter months, tho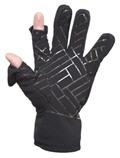 ugh -- unless you have the right gear.
Tavo Gloves ($30) have specially designed fingertips that conduct electrical impulses to an iPod's or iPhone's screen without exposing the user's hands to the cold. For a less elaborate but more affordable alternative, try Freehands Gloves (starting at $20, although they range up to $70 for cashmere), whose fingertips simply fold back, revealing the finger while keeping the rest of the hand warm.
Gift Cards
If you're not sure what your favorite Mac users want, why not let them decide for themselves? Apple offers three kinds of gift card : an Apple gift card, good for any product in its online or retail stores; an iTunes gift card, which can be redeemed for music in the iTunes Store (all new Macs come with the iTunes software preinstalled); or an iPhone gift card, which can be applied to the purchase of a new iPhone.
The Gift of Time
If you're reading Computerworld, chances are you already know a thing or two about IT. Make yourself available as a resource to new Mac users by volunteering your time and expertise. Arrange a day to sit down together and review each piece of software they're using and might be having trouble with. This could be the most affordable gift of all -- or, depending on your patience, the most expensive.
Apple offers a similar support program, One to One, that costs $99 a year but is available only as an add-on with the purchase of a Mac.
What Mac gifts are on your holiday wish list? Leave a comment and let us know!
This story, "Budget Gifts for Mac Users" was originally published by Computerworld.