Macworld's 2009 App Gems Awards
Apple 16GB iPhone 3G

$240.00

Amazon Shop buttons are programmatically attached to all reviews, regardless of products' final review scores. Our parent company, IDG, receives advertisement revenue for shopping activity generated by the links. Because the buttons are attached programmatically, they should not be interpreted as editorial endorsements.

With a lower price, 3G radio, and GPS, this smart phone is in a class by itself.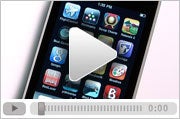 In this second part of Macworld's 2009 App Gems Awards, Jason Snell and Phillip Michaels take a look at 15 of the best apps for the iPhone.
For comprehensive coverage of the Android ecosystem, visit Greenbot.com.