Page 6 of 7
W. David Gardner at InformationWeek, December 8th, 2006: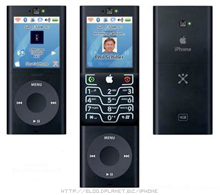 With Apple Computer's annual MacWorld Expo in San Francisco just a month away, the rumors are focusing on what Steve Jobs will announce in his keynote address.
It's not likely to be Apple's much-anticipated iPhone, according to CIBC World Markets analyst Ittai Kidron, who speculates the phone won't be announced until after the Jan. 9-12 event in San Francisco.
For weeks now, other Apple watchers — including Web site ThinkSecret.com — have said the ambitious cell phone-music player combo won't be ready in time for the expo.
Scorecard: Unlikely or not, Steve Jobs did announce the iPhone at Macworld. Which started on January 8th, not the 9th, was called Macworld Expo (not "MacWorld Expo"), and which wasn't Apple's show–it was owned and operated by IDG.
Arnold Kim at MacRumors, December 13th, 2006: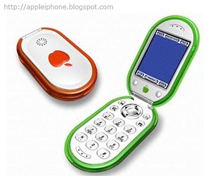 Morgan Stanley analyst Rebecca F Runkle has "high conviction" that the iPhone will launch in the first half of 2007. In addition to this, she cites unnamed sources to provide some specs for the unreleased Apple phone:
- $599 for 4GB
- $649 for 8GB
- Wider than the iPod nano
- Thinner than the iPod Video
- Made of Metal
- Multiple colors, but at least including black, white, and silver
- Cingular Wireless is likely carrier in the U.S.
- Update: Clarification: Runkle actually claimed: "full screen LCD; 3.5 inch (28×21)" and approximately 4/10ths of an inch thick. Also incorporates a Virtual Click wheel.
Scorecard: The iPhone debuted at different, lower prices: $499 for the 4GB model and $599 for the 8GB one. It didn't come in multiple colors, and sported no click wheel of any sort. But it was indeed wider than the iPod Nano and thinner than the video-enabled iPod, and roughly 4/10th of an inch thick (.46?, to be exact). And yes, its screen in fact measured 3.5?.
Brian Lam at Gizmodo, December 17th, 2006: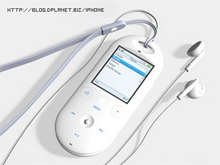 Cisco rightfully owns the trademark for iPhone. And Apple can't sue them or bully them into giving it up. The tech world had taken the title for granted, assumed it to be proper, plastered it over magazine covers, and now the name is lost. Which means Apple's iPhone, if there even is an iPhone, will have to be named something else. It's a big deal, if you think about what that name meant.
Scorecard: Name not lost. Despite Cisco's launch of a VoIP phone called the iPhone, Apple called its cell phone the iPhone anyhow. Cisco sued, but the companies settled their differences.
Stéphane Dion at iPhone Freak, December 28th, 2006: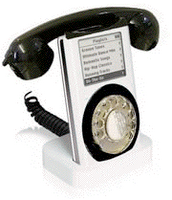 Expected iPhone specifications:
• Slide out keypad.
• Touch screen display.
• Combined MP3 player and phone, coming in two sizes, 4GB costing $249, and 8GB costing $449.
• Two batteries, one for the MP3 player and one for the phone, so you don't run down your phone while listening to music.
• It going to made from Zirconia, a scratch resistant ceramic material that can be made into a variety of different colours including, white, black, navy blue, light blue, ivory, brown, platinum and gold.
Scorecard: The iPhone did have a touch screen, and did come in 4GB and 8GB varieties. But it didn't have a slide-out keyboard, or two batteries, or a case made of zirconia. And the two models sold for $499 and $599, not $249 and $449.