Page 2 of 2
Users who like to tweak the look of their browser but don't want to dig into the technicalities of Firefox's XUL (XML User Interface Language) should enjoy playing with Firefox's new Personas feature. This is a one-click Web-based tool that lets you change the look and feel of your browser. You can either roll your own theme or pick one of the more than 35,000 themes that are already available. Personally, I like the plain-old Firefox theme, but if you like jazzing up your browser's looks, you'll like Personas.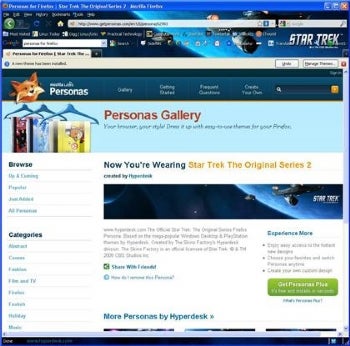 A more universally useful feature is that Firefox 3.6 will now automatically check to see if your plug-ins are out of date. Since many 21st-century security problems come from outdated plug-ins, this is an important fix. For example, Adobe Flash, which most of us use for Web video, has had numerous security problems fixed in the last year. With this improvement, even users who don't follow security news will be able to keep their plug-ins up to date and secure. This is a win/win situation as far as I'm concerned. I'd like to see all browsers implement this feature.
The new Firefox has also improved its support for HTML5. Specifically, Firefox now supports full-screen native video and will let you use local files with Web applications. As the gap between traditional desktop applications and SaaS (Software as a Service) applications continues to narrow, this last feature is likely to see a lot of use.
At the same time, though, Firefox's developers are preventing Firefox browser extensions from loading third-party components installed in its internal components directory. This is because the programmers were finding that many Firefox crashes were actually caused by misbehaving extensions and plug-ins. To make matters worse, users couldn't access some of these third-party components with the add-ons manager or even disable them.
The long-term gain from this change will be to make Firefox more stable. In the short run, though, Firefox's programmers estimate that about 1 in 4 current Firefox extensions will need to be rebuilt to work with Firefox 3.6. I'm more than willing to put up with that for the sake of having a Web browser that won't fail on me when I'm in the middle of work.
In any event, I've discovered that the Firefox extensions that I consider to be absolutely essentially -- the Google Toolbar and Xmark's Bookmark Sync tool -- work just fine with Firefox 3.6.
Taken all in all, I'm very impressed by Firefox 3.6. While I still really like Chrome's speed and recently introduced support for extensions, this new version of Firefox is so much better than the last iteration that I've decided I'm going to keep using Firefox as my main browser on Linux and start using it again on Windows.
Internet Explorer? Chrome? Look out. Firefox is back in the game again.
This story, "Review: Firefox 3.6 RC Makes Browsing a Pleasure" was originally published by Computerworld.