Wow, Did That Go on Sale? Famous Tech Vaporware
Each year, the nation's largest geekfest, the Consumer Electronics Show (CES), is full of hype, overhype, and beyond the valley of the hype. Remember the Internet Refrigerator?
And each year the hype (and overhype, and b.t.v.o.t. hype) inevitably leads to disappointment: Vendors dangle many alluring prototypes and product rumors in front of the assembled tech journalists and geeks during the week in Las Vegas, but many of the products never appear or arrive far later than scheduled and in a competely different format. Evidently, much of what is dangled in Vegas stays in Vegas.
We took a look back at the CES shows of yesteryear to find products that never came to fruition, that came late, or that came in completely different packages (and with completely different prices). CES marketers, we're on to you.
Internet-Connected Refrigerators: Just Not Happening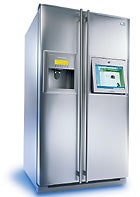 At CES 2000, Cisco and Whirlpool announced a Jetson-age joint project: a complete line of Internet-connected home appliances, including refrigerators and ovens.
Philip Pejovich, Whirlpool vice president of corporate technology and engineering development at the time, claimed that such futuristic products would help homemakers increase their efficiency. Ovens would be able to download recipes and program themselves to perform the appropriate roasting, baking, or whatever; refrigerators would come with wireless, removable Web tablets designed for use as a calendar/e-mail device/grocery-ordering form/note board.
Well, that awesome refrigerator never came to fruition, though the idea of a Web-surfing fridge has experienced several revivals, including LG's $8000 Internet Refrigerator (which received a frosty 2-star rating in the December 2003 issue of PC World) and Whirlpool's GD5VVAXT "centralpark" fridge of 2008.
Both models have since been discontinued, so maybe it's time to admit that intelligent refrigerators just can't take the heat (and hence should stay out of the kitchen).
Gizmondo Portable Gaming Device: Killed Off by Competitors
CES 2005: Tiger Telematics announces Gizmondo, a handheld gaming device with such nifty features as GPS and digital camera capabilities, plus rights to Microsoft's wildly popular Halo: Combat Evolved game (number seven in our list of "20 Games That Changed Gaming Forever").
The problem? The announcement for the rather expensive $399 device came out just as the Nintendo DS hit the market and Sony announced PSP. Gizmondo boasted MP3 capabilities, SMS and MMS capabilities, Bluetooth and USB support, and other fun features that the DS and PSP lacked--but those features simply didn't translate into success.
The device actually did launch--in late October 2005, but it was available only from the Gizmondo Website and from specialized kiosks in malls.
Gizmondo managed to tread water (only eight games were released, and no GPS software ever appeared) for four months before the device was discontinued and Tiger Telematics declared bankruptcy. In 2009, the Gizmondo landed in the number two slot on our list of "The 10 Worst Video Game Systems of All Time."
Moxi DVR: Late, Expensive, and Not as Expected

At CES 2008, Digeo announced that its Moxi DVR set-top boxes would soon be available to the public via local consumer tech outlets (previously, the boxes had been available for purchase only through cable service providers).
Digeo also announced new Web-based content partnerships, including an agreement with Flickr. Well, 2008 came and went, and the Moxi boxes were still accessible only through cable providers.
At CES 2009, Digeo made almost the exact same announcement, the only twist being that the company now had a deal with retailer Amazon.com. Sure enough, later in 2009, consumers really could get the Moxi HD DVR--but at a stiff price ($499 for one DVR) and without the multiroom extender boxes. (Earlier this month at CES 2010, Digeo unveiled extender Moxi Mates, priced at $299 each.)
Next: OLED TVs, Wireless HDTV, and more
OLED TVs: Taking Their Sweet, Sweet Time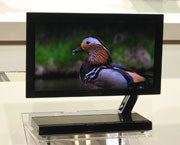 TV manufacturers won't rest until television screens are no thicker than a piece of paper, so the announcement by Sony and Samsung of OLED televisions at CES 2008 was hardly surprising.
OLED (organic light-emitting diode) technology emits its own light (as opposed to requiring a backlight, as LCD TVs do), thus permitting much thinner screens.
At this point, OLED screens aren't a completely imaginary animal--Sony sells a tiny 11-inch OLED TV for $2700, and OLED screens exist on several phones and music players--but we've yet to see a revolution in mass-produced big-screen OLED TVs (or even small OLED TVs).
Wireless HDMI: HDMI Ports on Your HDTV Are Still a Priority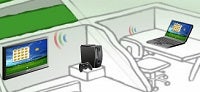 At CES 2007, Philips tantalized show attendees with rumors of a wireless HDMI device. The device, supposedly slated to debut in May of that year at a suggested retail price of $300, would be able to transmit uncompressed high-definition video over the air from up to 25 feet away. Moreover, the device would work with existing DVD players, making a true 1080p HD experience possible without a bunch of messy cables.
In November 2007, though, Philips rescheduled the debut of wireless HDMI to 2008. Then, at CES 2008, Belkin announced its own foray into the wireless high-def market with Flywire, which one-upped Philips's design by adding six input ports instead of just one for the ultimate wireless experience (including S-video and component video).
Belkin has since put its product on hold indefinitely. The good news? As of October 2009, you can (finally) snag Philips's wireless HDMI device, albeit for a slightly higher price ($800) than initially anticipated.
And finally, the inevitable committee--the Wireless Home Digital Interface (WHDI) Consortium--announced late last year that it had finished its WHDI specs, so perhaps we can at last see on the horizon an HD-friendly wireless living room that isn't a mirage.
This Year's Best Candidate for Vaporware Status? TransferJet Technology
The first devices with TransferJet, a new type of high-speed wireless data transfer technology spearheaded by Sony, will be released in February 2010.
The first devices to incorporate TransferJet will be Sony CyberShot cameras, followed by other Sony products (such as VAIO laptops).
So why is this "vaporware"? Because we're unlikely to see TransferJet en masse as a technology this year. So far, Sony is the only company with plans to release TransferJet-enabled devices (and, so far, just in a digital camera); only one other company--Toshiba--has even shown a TransferJet prototype.
Plus, it's already been two years since TransferJet was first announced (at CES 2008), and back then a cadre of electronics companies--including Canon, JVC, Nikon, Olympus, Panasonic, Pioneer, Samsung, and Sharp--had signed on.
So don't get your hopes up that TransferJet will soon appear in everything from cell phones to laptops, because it's probably not going to happen this year.
More CES Madness:
• "The Biggest Bummers of CES 2010"