Page 2 of 2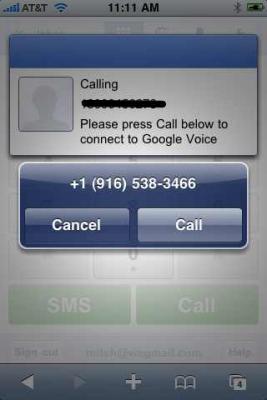 The new way of calling is slightly confusing at first, though. When you tap the button to place a call, the iPhone displays a pop-up asking for permission to place the call. The number it shows is not the number you asked to dial, which is confusing at first, but after a couple of uses you'll figure it out.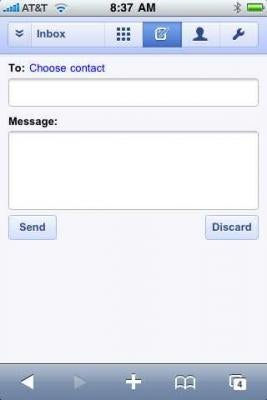 You can use the application to compose, send and receive SMS messages for free.
The application dials calls in the US for free, and dials international calls at Google's low rates. It also displays transcribed voicemail messages, using Google Voice's enjoyably inaccurate transcription service. The application also lets you view your call history, and listen to voicemail messages using the mobile browser's built-in support for QuickTime.
I found the application fast and responsive. Unfortunately, I could not say the same for two third-party iPhone Google Voice apps which were available last year; I found those sluggish. Calls on the new application were clear and reliable, same as with Google Voice through any other channel. However, it's only been available less than a day as I write this, and I've only used it a few times, so time will tell.
The application's simplicity is its great strength, but the simplicity of the user interface masks underlying complexity. The technology is complex, both the underlying HTML5 code that runs in the browser, and the international network that routes all the phone calls.
And the corporate politics behind Google Voice for the iPhone are complex too, as described by my colleague Juan Carlos Perez. Google and Apple used to be great partners, with Google writing the iPhone's Maps and YouTube apps, and CEO Eric Schmidt sitting on the Apple board. Now, Google has its own, competing smartphone platform, and Schmidt stepped down from the Apple board. Google initially intended to come out with a native iPhone app for Google Voice, but last year, Apple blocked it from the App Store, as well as removing a couple of third-party Google Voice iPhone apps.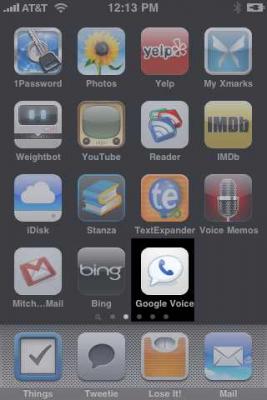 These days, Google and Apple are like an estranged married couple that are keeping it together for the children. Any day now, the dishes are going to start flying.
I like the Google Voice mobile app, it's a valued addition to my iPhone's home screens.
And now for a Google-created instructional video in using the app:
This story, "Google Voice Mobile App: Hands-On Test Drive" was originally published by Computerworld.