Page 2 of 3
The most genuinely useful part about Buzz is how it works as an activity aggregator. Anything you post on YouTube, Google Chat, Flickr, Twitter or Picasa can be automatically funneled into Buzz. If you manage sites through your Google account's webmaster tools, you can siphon in feeds from those sites as well. However, this is a limited feature; for example, you can only add one Twitter feed (typically your own) through the "connected sites" link.
Note that there is some degree of privacy control for all of this: Individual posts can be marked as public or private, with "private" meaning one of a set of groups you define from your Google contacts list. (This is also useful if you want to direct messages to relevant audiences.) You can also choose not to feed a given site into Buzz at all.
The Bad Buzz
Some things about Buzz are genuinely problematic.
Privacy problems. The privacy-protection features supplied by Buzz so far aren't broad enough. It's not clear how to enable disable geolocation features when posting from a mobile device, for instance. (Do you really want to tell people exactly where you are, all the time?) There are ways to disable it for individual posts, but it should be easier to change that feature on a general basis.
Your list of followers is another weak spot: It can't yet be subdivided into lists à la Facebook, but it can at least be made private via the Edit Profile page. Also, as mentioned before, some contacts you follow are chosen automatically, apparently based on your activity in Gmail with those people. None of this is impossible to fix, but it deserves attention sooner, not later.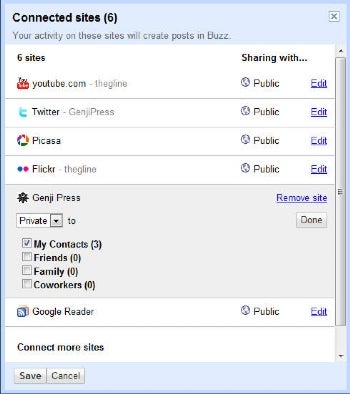 Forced integration with Gmail. Buzz isn't a standalone item; it's part of Gmail, and that's the only way to access it right now. The mixture of metaphors -- mail vs. feeds -- is sometimes problematic. Example: You can "mute" (hide) individual Buzz items, both incoming and outgoing, with a click. Un-muting something, however, is a mess: You need to look in Gmail's Sent Mail folder (no, seriously), and you'll see a copy of the muted item which you can then unmute.
The biggest drawback, however, is that Buzz is essentially an extension to Gmail and not its own standalone item -- great for those of us who use Gmail regularly, but not so great for everyone else.
[VIDEO: Click here for Posting on Google Buzz.]
Difficult to decipher. Many settings and functions in Buzz are either not yet available or buried. The "mute" issue is one such thing; the link for editing connected sites also has a tendency to vanish without warning. If you want to give Google the benefit of the doubt, this could simply be early beta woes.
No API compatibility with Twitter or Facebook. Buzz's API is its own animal. Twitter's API is already widely embraced despite the system's relative youth, and for Google to shirk such potential developer leverage is just plain dumb -- especially since it lets you feed Twitter into Buzz, but not the other way 'round.