Page 2 of 2
Buzz: What's to Like?

* If you're on a PC or Mac, Buzz is a feature within Gmail and therefore requires that you be a Gmail user to use all its features. But if you're on a mobile phone, it's a separate service, not a Gmail feature. Odd! (I assume the chances are 100% that Google will introduce a completely de-Gmailed version, maybe very soon.)
* Even in a desktop browser, the Google Public Profiles that are part of the privacy concerns over Buzz don't live in Buzz. I understand why, since the Profiles provide personal info that goes beyond Buzz-specific stuff. But it's still confusing and ungainly -- if you're in Buzz and want to figure out who somebody is, you'll probably have to click out of Buzz and into his or her Profile...and then back into Buzz.
* I stared at the yellow strip alongside the left-hand side of Buzz posts for 24 hours before I figured out what it was trying to tell me. It's saying that the posts to its right are new since the last time I checked Buzz. I think.

* I'm really confused by Buzz's Buzz-in-your-Gmail-inbox feature. When someone comments on one of my posts, I get a thread in my inbox, but it starts with a message that looks like it's coming from me, listing my own post -- the one I'm well aware is there, since I posted it. It's especially unhelpful when I'm looking at the message in my iPhone's inbox, since the subject line is the pointless "Buzz from Harry McCracken," and I have to open the message to see if I care -- otherwise, I can't even tell which post someone has commented on. (In Gmail itself, I at least see a snippet of the post and the names of commenters.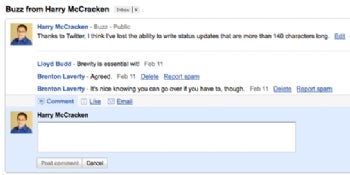 * When I heard that I could pump my Twitter feed into Buzz, I got excited. But it takes hours for Tweets to arrive in Buzz, and Buzz clumps them together so you can't see all of them without an extra click. I'd much rather that Buzz treated an incoming Tweet exactly the same as it did an item posted in Buzz.
I want to like Buzz. There are numerous things about it that I do like. But it'll be far easier to like if Google does some serious streamlining of the user interface. Let's hope that it gets simpler before it gets more complicated. (Google is already talking about all the features it wants to add to the service -- an API, Wave integration, etc., etc....)
This story, "Google Buzz: Both Promising and Confusing" was originally published by Technologizer.