Epson PictureMate Show Combines a Photo Printer with a Digital Frame
Epson PictureMate Show PM 300

$278.00

Amazon Shop buttons are programmatically attached to all reviews, regardless of products' final review scores. Our parent company, IDG, receives advertisement revenue for shopping activity generated by the links. Because the buttons are attached programmatically, they should not be interpreted as editorial endorsements.

The integrated digital frame transforms this snapshot printer into a full-time home accessory.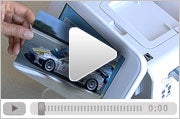 If you're looking for a great performing printer with a little bit more, you should take a look at the Epson PictureMate Show. This small device will not only print 4-inch by 6-inch photos but will also store and display the digital images for you.