Page 2 of 2
Internal or Internet?

Whether organizations should use private or publicly available social networking tools like Facebook depends on the company's strategy, she said. But using public tools can develop skills that are valuable in the workplace, she pointed out.
"My research has shown that there is a skills transfer. People that use social networking sites in their private life actually develop good skills for co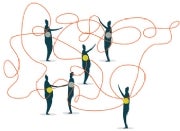 mmunicating and collaborating in effective ways that they can bring into the organization," said Haggerty.
NASA developed an interesting technique for eliciting tacit knowledge by videotaping engineers telling stories about how they brought project teams together, she pointed out. Rather than try to pinpoint the casual attributions of why one project is successful and another is not, the videos allow people to hear those stories and interpret them within their own expertise and their own perspectives on how they are going to run their projects, she said. Internal discussion groups are another technique businesses can use for conversational storytelling rather than "the standard PowerPoint decks companies put online in a very codified way," she suggested.
Companies can "absolutely" use social media to tap into tacit knowledge, according to Mark Bower, CTO for Connectegrity, a recent startup based in England that specializes in social software and knowledge management for law firms and professional services organizations.
"The key way we would use it inside Microsoft was through virtual discussion groups," said Bower, who spent seven years at Microsoft Corp. working as a SharePoint expert and consultant prior to his role at Connectegrity.
The "great thing" about the discussion groups was that they cut "horizontally across the whole business," he said. On a global scale, he could reach out "to pretty much anyone in the organization."
Culture is a key challenge for most organizations rolling out social media tools, according to Bower. "For the people who are used to being in the position of power in the organization, it's a huge cultural shift and big thing for them to get their head around," he said. One organization he worked with rolled out SharePoint and created groups for employees to come together to talk about the business, but they weren't actually ready for the feedback they were about to receive, he said. When employees started discussing the company's latest TV commercials and debated whether the ads accurately represented what the company was about, IT got a call from management requesting they stop the conversation and delete it, he said.
"The culture of the organization has to be right to get these kinds of things to work," said Bower. "In some organizations, it's very much a culture of 'knowledge is power' ... in other organizations, it's very much about sharing."
Remember to Share

Bower suggested organizations promote a culture that rewards employees for sharing.
"Microsoft is very good at that. They had a whole culture built around that ... people were specifically rewarded and recognized for sharing information because they recognized that doing that would enhance the whole company," he said.
Bower sees a growing demand for social media from business units within larger enterprises, and in some cases, the business units will circumvent the IT groups, he pointed out.
There is a "major cultural shift" going on and IT needs to adapt, said Bower. IT groups have been focused for too many years on simply reducing risk, cutting costs and acting as people who police data, he said. "IT departments who fail to change and recognize what is going on will find the business units do go around them and start using the public tools and those IT departments will just find their jobs outsourced to some data centre in the cloud somewhere before they know it," he said.
Follow me on Twitter @jenniferkavur.
This story, "Social Networks Help Businesses Share Knowledge" was originally published by ComputerWorld-Canada.