It's no surprise that BlackBerry-maker Research In Motion (RIM) has up its sleeve a successor to the popular BlackBerry Tour 9630 smartphone; images and details on the as-of-yet unannounced device, codenamed "Essex," hit the Web late last year.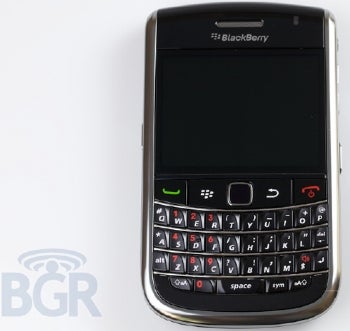 This new BlackBerry, initially thought to be the "BlackBerry 9650" or "Tour2," is an upgraded version of the original Tour 9630, and it replaces the first device's problematic trackball with RIM's new optical trackpad. It also will reportedly sport Wi-Fi and a beefed-up processor.
And today is looks as though that new Tour just may be RIM's next BlackBerry Bold 96xx/97xx smartphone...and I think that's a much better idea than releasing another BlackBerry Tour. I'll get to an explanation shortly, but first, some background.
I started hearing rumblings about the Tour2 being officially named "Bold" a number of weeks ago from BlackBerry-sources on Twitter. (There are currently two models of BlackBerry Bold: the BlackBerry Bold 9000 and the Bold 9700.) At first, I blew the rumors off like dust on my smartphone's LCD. Why, I thought, would RIM want to further confuse BlackBerry users by introducing the Tour name and then doing away with it so quickly? (The original Tour was released in the United States last July.)
But sure enough, those same rumors kept popping up. I began to consider reasons why it might make sense for RIM to add this new device to its Bold lineup. And everything clicked into place.
I've written about RIM's confusing device naming-conventions before--think: Curve 83xx, Curve 85xx and Curve 89xx. And I even blasted the title "Tour" as soon as it became known it would be the name of RIM's 9630 device.
But despite RIM's strange device-naming strategy, it's actually quite simple to look at any of the company's "new" handhelds and determine which model-line they belong to. That's due to one single device characteristic: The BlackBerry keyboard.
All BlackBerry Curve devices have the exact same keyboard-style regardless of their model numbers; every BlackBerry Pearl handheld has the same style keyboard; RIM's Storm and Storm2 devices both use on-screen "SurePress" keyboards; and RIM's two Bold devices both have very similar, "fretted" keyboards.
This story, "RIM Should Say 'Ta-Ta, Tour — Bonjour, Bold'" was originally published by CIO.