Page 4 of 5
StarTech SuperSpeed USB 3.0 to SATA Hard Drive Docking Station
Let's say you already have a good hard drive with all your data on it, and all you want to do is speed it up to USB 3.0 speeds. StarTech's inexpensive SuperSpeed USB 3.0 to SATA Hard Drive Docking Station is a good place to start. At $76, it can goose your drive to top speed.
The beauty of the StarTech dock is that it works with both 2.5- and 3.5-in. SATA drives. It's also easy to install: The drive drops right in through a hinged door that gives way as it enters the dock. There's no software to load -- just turn the dock on; as data starts moving back and forth, the power light in the switch goes from blue to purple. (However, it's not as cool as the Buffalo's light, which indicates whether the device is connected to a USB 2.0 or 3.0 port.)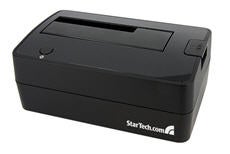 The drive dock comes with a 3-foot USB 3.0 cable, and StarTech sells a USB 3.0 ExpressCard adapter for $50. The card has two USB 3.0 ports, unlike the Seagate card's single port. The dock automatically connected with the ThinkPad W510 and both of the ExpressCard adapters I used.
Test results
I tried it out with a 320GB Western Digital WD Caviar Blue SATA hard drive. The StarTech dock was able to write data faster than the other two drives -- it moved 437.6Mbit/sec. using the StarTech ExpressCard. That's more than three times its speed when it was connected to the USB 2.0 port of a notebook. It was able to read from my 8.45GB folder of files at a class-leading 370.2Mbit/sec. but could write to the folder at just 257.9Mbit/sec.
Bottom line
StarTech's SuperSpeed USB 3.0 to SATA Hard Drive Docking Station is a good, inexpensive way of creating a fast external hard drive. Just be sure to bring your own drive.
Lenovo ThinkPad W510
The Lenovo ThinkPad W510 is one of the first notebooks on the market with USB 3.0 ports. At $2,300, you're paying two or three times as much as you would for a lesser system, but you'll get a great array of high-performance components.
Created with the power user in mind, the 15.6-in. ThinkPad W510 I used as a testbed for benchmarking USB 3.0 gear has a pair of USB 3.0 connectors with their distinctive powder-blue plugs. There are also two USB 2.0 slots, one of which doubles as an eSATA connector.
Inside the ThinkPad's traditional black case is a 1.73-GHz Intel Quad-Core i7 820QM processor that comes with a whopping 8MB of cache. The W510 is available with a 2-GHz version of the Core i7 that adds $200 to its price tag.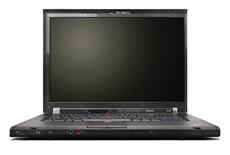 The system comes with 8GB of 1-GHz DDR3 memory and tops out at 16GB of RAM. There's also a 7,200rpm 500GB hard drive and a DVD Super Multi optical drive.
But the W510's crown jewel is its graphics. It's got the latest Nvidia Quadro FX 880M graphics engine with 1GB of dedicated memory. This can be augmented with up to 3GB from RAM, giving it 4GB of memory on tap -- more than enough for the most demanding video editors, Photoshop gurus or CAD designers. It's all topped off with a bright 1920-by-1080 high-definition screen, although the optional $450 touch screen intrigues me even more.
The W510 measures a stout 1.5 by 14.5 by 10.4 in. and weighs in at 6.5 lbs. with its nine-cell battery. Add to that its mammoth AC power adapter, and you have a 7.8-lb. travel weight that's on a par with many 17-in. notebooks'.
It may be big and expensive, but the ThinkPad W510 is one powerful portable.