Sony's Pistol-Grip Bloggie Pocket Camcorder
Sony Bloggie MHS-CM5

$499.00 (Check Prices)

via Amazon Marketplace

Amazon Shop buttons are programmatically attached to all reviews, regardless of products' final review scores. Our parent company, IDG, receives advertisement revenue for shopping activity generated by the links. Because the buttons are attached programmatically, they should not be interpreted as editorial endorsements.

The 1080p-shooting Sony Bloggie MHS-CM5 has a pistol-grip design and a 5X optical zoom lens, but it doesn't match the performance of similarly priced pocket camcorders.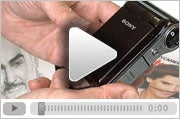 The new Bloggie MHS-CM5/V pocketable Sony camcorder has a 5X optical zoom, and shoots 1080p footage at 30fps and 5 mega-pixel photos. It's also compatible with SD/SDHC cards, ending the company's Memory Stick-only era.