Facebook Bans 'Free iPad' Ads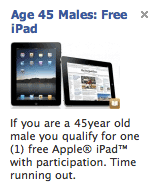 Last month, I wrote about mysterious Facebook ads that offered free iPads to 45-year-old males. Or 26-year-old females. Or people of whatever age and gender happened to be those of the Facebook member reading the ad.
Now the New York Times has weighed in, with an entertaining and illuminating article on weird Facebook ads (including ones claiming to be aimed at Eddie Izzard fans). It says that Facebook doesn't approve ads individually, but that ones that mention factors that really have nothing to do with the subject of the ad -- such as age, sex, and feelings about Eddie Izzard in the case of a "free iPad" ad -- are prohibited and will be deleted when they're found.

Amazon Shop buttons are programmatically attached to all reviews, regardless of products' final review scores. Our parent company, IDG, receives advertisement revenue for shopping activity generated by the links. Because the buttons are attached programmatically, they should not be interpreted as editorial endorsements.