Gateway's ZX4800 All-in-One PC: A Solid Family Media Center
Gateway ZX4800-06 All-in-One

Gateway's ZX4800-06 offers good performance for a budget all-in-one, but some elements feel cheap or unpolished.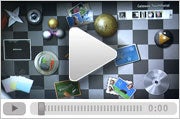 For $750, Gateway's ZX4800 all-in-one PC has decent specs, a snappy multi-touch 20-inch screen, and a wireless mouse and keyboard. While it won't replace your dedicated workstation, it can provide quite and easy access to your photos or music in a communal area of your home.