If the iPad is truly going to be "magical," as Apple claims it will be, a lot rides on AT&T's networks, especially its much-derided 3G performance for the iPhone.
So, it's fair to ask what a user can realistically expect after unboxing an iPad, when the first Wi-Fi-only versions are released Saturday, and later in April when versions with 3G are released.
AT&T is pretty cocky about its readiness. "We are absolutely ready," spokesman Mark Siegel said today. "The iPad is already figured into our planning for this year. It's worth noting that people are likely to use the iPad a lot on Wi-Fi."
Analysts believe that the Wi-Fi experience with the iPad will almost certainly be the same as with a laptop or an iPhone, but bigger questions remain regarding wide-area cellular performance from AT&T when 3G/Wi-Fi iPads begin shipping sometime in late April.
The Wi-Fi-only iPad
While there are many home and business Wi-Fi networks to use with the iPad, AT&T also supports at least 20,000 hot spots, 11,000 of which provide free service at McDonald's restaurants.
AT&T will offer a special data plan for the iPad 3G/Wi-Fi version that will cost $15 or $30 per month (with no long-term commitment) and will also provide free Wi-Fi access at all of AT&T's hot spots in the U.S. The $15 plan provides a limit of 250MB per month, and the $30 plan offers unlimited data service.
The iPad supports fast 802.11n Wi-Fi, but that much speed might be irrelevant. As analysts note, the slowest link in any network is what matters, and while a home, restaurant or airport might support fast Wi-Fi, it could be the size of the pipe from the location to the switching office of the Internet carrier that matters, as well as the number of users on a single Wi-Fi access point.
If a user is getting an average speed of 1Mbit to 3Mbit/sec. to the home via a DSL or a cable modem connection and has a fast Wi-Fi router (theoretically, a router that could be 540Mbit/sec. with 802.11nm although much lower in reality), that will be fine for most iPad functions, analysts note.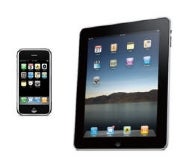 The iPad is widely seen first as a multimedia device and an e-reader, among its other functions. Some users may notice problems with real-time streaming video over Wi-Fi, depending on the size of the video image and its resolution. This might present a problem for some video clips embedded in a New York Times story, for example, but would probably be no different than what users could expect from a small video clip via a typical laptop over Wi-Fi.
Analysts noted that many high-definition movies, even the forthcoming 3-D films, will probably play perfectly well on an iPad's full screen because they will have been downloaded to the device in advance by the user. As a related word of caution, however, anyone who has tried to use a typical Wi-Fi connection to download a one-hour HD movie from iTunes knows it can take a while -- possibly as long as 30 minutes -- to complete.
What could present a problem to iPad Wi-Fi users is performance with real-time gaming, particularly multiplayer gaming. While heavy-duty gamers might never expect to use a laptop over Wi-Fi for fast two-way or multiparty communications, some analysts said there could be a different mind-set about the iPad.
Because the iPad is touted as a fast multimedia device with a 9.7-in. LED screen, some novice gamers might expect it to have greater gaming performance than most wireless networks can support.
"I don't know how good the gaming experience will be. Interaction won't work well," said analyst Jack Gold of J.Gold Associates. With gaming, it will be hard to know whether raw processor power in the iPad or network speed is the bigger problem, he added.
Questionable network performance may also be one reason the iPad doesn't include a camera, at least in the first version. Some analysts theorize that real-time sending and receiving of video (including person-to-person videoconferencing) is already challenging via current wireless networks. While wireless videoconferencing from phones and laptops over Wi-Fi and cellular networks is possible today, the experience is usually shaky, with video pauses and breakups.
What will be interesting about Wi-Fi usage with the iPad is how users manage their costs. For a college student hoping to use the iPad for e-reading, movies and music, fast Wi-Fi is abundant but not entirely free, depending on how a college bills its students for Wi-Fi and Internet access. Internet access may be included in overall tuition and housing bills, or the cost could be itemized separately. Even home Wi-Fi users need to have an Internet connection, which can run $20 to $40 a month. (And obviously, there are Internet access costs for all kinds of devices, not just the iPad.)
For several reasons, including costs and fast network speeds, Wi-Fi-only iPads, rather than the 3G models, will be the device of choice, as AT&T has often noted. In early March, AT&T CEO Randall Stephenson said he expects the iPad to be a "Wi-Fi-driven device" and noted that not many customers would want to have an added monthly iPad network cost on top of an existing wireless subscription.
Given the problems that iPhone users have experienced with AT&T's 3G networks, Gold predicts that fully 85% of all iPad users will get Wi-Fi-only versions or will end up using them almost completely in Wi-Fi settings.
"The vast majority of iPads will be on Wi-Fi, simply due to performance and cost," he said.