Page 2 of 2
The iPad with 3G and Wi-Fi
If anyone, after Saturday, still wants the 3G/Wi-Fi version of the iPad, serious questions remain about how well the iPad will function as a multimedia device in 3G.
During its initial announcement on Jan. 27, Apple said the iPad 3G/Wi-Fi would support up to 7.2Mbit/sec. on an upgrade to 3G known as HSPA 7.2. However, that network upgrade is only beginning to be fully rolled out over AT&T.
In early February, an AT&T spokeswoman acknowledged that full readiness of the HSPA 7.2 upgrade depends on providing fiber-optic cable connections to cell towers, but initial deployments of fiber had only been made in six U.S. cities -- Charlotte, Chicago, Dallas, Houston, Los Angeles and Miami.
An AT&T spokeswoman today said the company anticipates that the majority of its mobile data traffic will be carried over fiber-based HSPA 7.2-capable backhaul by the end of this year, with more expansion in 2011.
However, AT&T's Siegel today indicated that the company's 3G network will be ready for the iPad 3G/Wi-Fi version, including the fiber-optic backhaul installations needed to support the iPad.
"Our network planning, including backhaul, already includes traffic generated by the iPad," he said, adding that the carrier has already installed HSPA 7.2 radios across the entire 3G footprint.
However, analysts said AT&T customers have reason to be skeptical about AT&T's claims for 3G, given performance issues with the iPhone 3GS.
"If you think how the iPhone did on 3G, wait until you have a couple million iPads trying to do the same thing," Gold said. "And iPads will suck down signif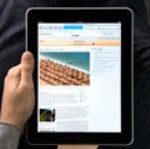 icantly greater data and have a much larger screen size, so it's not unfair to ask, how good is the AT&T [fiber-optic] backhaul?"
As with any cellular network, it won't matter if 2 million users are on iPads spread nationwide, but it will matter how many are loaded onto a single cell tower, Gold noted. The biggest network problems for the iPhone on 3G have been in densely populated areas such as Manhattan and downtown San Francisco.
In the meantime, until HSPA 7.2 is widely deployed with fiber-optic backhaul, questions remain over how well a typical 3G connection will work. AT&T has suggested that HSPA 7.2 will double 3G speeds, which can average 300Kbit to 400Kbit/sec., according to recent independent tests. If that means actual HSPA 7.2 speeds are less than 1Mbit/sec., that would almost certainly be well below the average speeds of 1Mbit to 3Mbit/sec. that many users have coming into their homes via copper wires. And that implies that 3G and even HSPA 7.2 will provide worse performance with rich interactive uses than Wi-Fi.
A fairly large and heavy device (9.56 by 7.47 by .5 in. and 1.5 lbs., or 1.6 lbs. for the 3G/Wi-Fi model) as compared to an iPhone or other handheld, nomadic uses for the iPad could be limited, obviating the need to ever have a 3G connection, some bloggers and analysts have noted.
AT&T in February said the upgrade to HSPA 7.2 will continue into 2011, which would provide Apple with enough time to add a camera for interactive video at a later date.
Meanwhile, come Saturday, users will be doing a lot of their own testing of network performance. Users can download network speed tests that are widely available on the Internet (and iTunes offers a free app, Speedtest.net, that presumably will work with the iPad as well as the iPhone).
Users can then compare the speeds they get in commonly used locations at work, school or home with the speeds they need for their most common functions, such as e-mail, instant messaging or downloading books. More than a few will try to test streaming video via Wi-Fi and 3G.
What most users are likely to find, several analysts said, is that 99% of the functions they care about will work just fine over Wi-Fi and will probably work very well over AT&T's existing 3G. But it's the exceptions that Apple users will care about.
Matt Hamblen covers mobile and wireless, smartphones and other handhelds, and wireless networking for Computerworld. Follow Matt on Twitter at@matthamblenor subscribe toMatt's RSS feed. His e-mail address ismhamblen@computerworld.com.
This story, "AT&T Preps its Network to Take Apple's iPad" was originally published by Computerworld.