Apple iPad in Action: Is it Just an Oversized iPod Touch?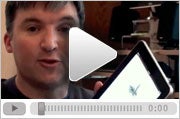 Jason Snell, Macworld's Editorial Director, demonstrates some of the iPad's features, including its slideshow capability, the calendar app, and the contacts list, the iTunes Store and music playing capability and some of the apps available for Apple's new tablet, including Marvel Comic's new app.
At a Glance
Apple looks set to shake up casual computing with a tablet that offers clever design and ease of use. But that streamlined approach may also be the iPad's weakness. Read the full review

Pros

Best-in-class touch interface
Large display shows pics and videos beautifully
All-day battery life

Cons

No way to manage files, no camera, no multitasking
Lack of Flash support cripples many Web sites
Poor scaling of iPhone apps
For comprehensive coverage of the Android ecosystem, visit Greenbot.com.