Page 2 of 3
Apple's iBooks app was one of the centerpieces of the iPad debut -- it's a gorgeous app that has its own online bookstore. However, I prefer Amazon's Kindle e-book app. It lets you buy and download books from Amazon's Kindle store and read them on any device: a PC, a Mac, an iPad, an iPhone, a BlackBerry or a Kindle reader. As you read, the service saves your place, so if you read a few pages on a Kindle device but later switch to an iPad and then to an iPhone, you can instantly pick up where you left off each time.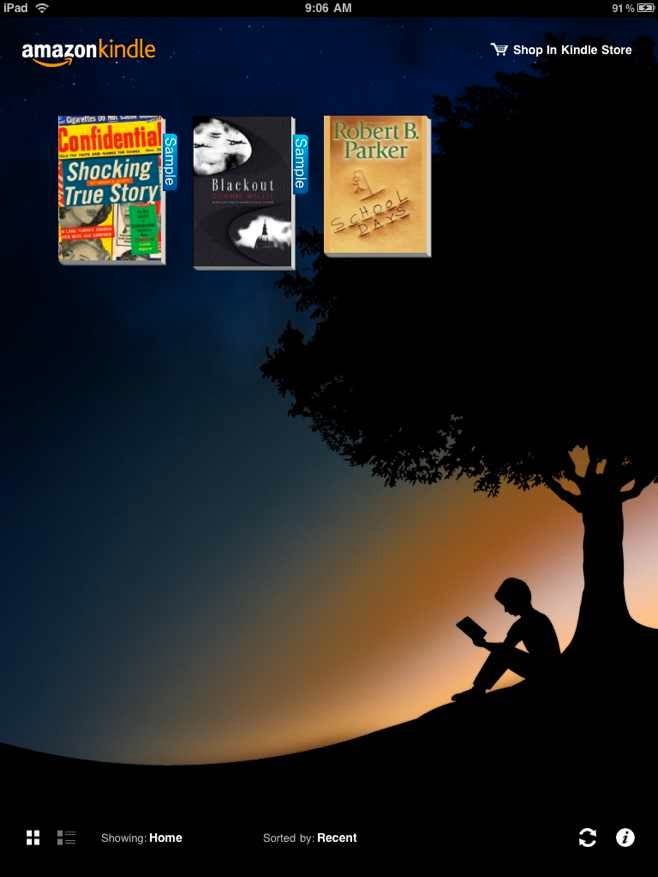 Both the iBooks and the Kindle apps are free and have huge selections of free books, courtesy of Project Gutenberg and other Internet sources.
Which one should you use? Whichever one you need to read the book you want to read.
For example, while I think the Kindle app has a slight edge because of its multiplatform support, the iBooks app had the one book I've actually shopped for since I got the iPad, while the Kindle didn't. And they both use Digital Rights Management (DRM) for many titles, which means you don't really own the books -- you're just using them, and you lose access if the software vendor discontinues support.
If you're a Netflix fan, this one is a must -- an app that lets you watch streaming movies and TV shows from your Netflix queues on your iPad.
The user interface looks as though it's just a Web browser pointing at the Netflix Web site. If you stop watching a movie partway through, the app is designed to remember where you are and resume again after you close the app and return later, no matter which service you use to watch the movie. That's a nice feature, but I found that it worked irregularly -- sometimes the app remembered my place, sometimes it didn't.
Fortunately, you can go back or fast-forward by dragging your finger along a horizontal scrollbar at the top of the screen. You can also tap a button at the bottom of the screen to rewind 30 seconds.
In addition, while the video streamed smoothly, without any jerks or stops, I found that the site itself seemed slower than usual, both in the app and in the iPad's Safari browser.
The app itself is free but requires an unlimited rental membership from Netflix, which starts at $8.99 per month.
Apple's Pages is an impressive little app. It's a fully functional slimmed-down word processor that costs only $9.99. It has all the basic capabilities you expect from a word processor: You can write and edit, format text, embed images and charts, and more. For layout, you can move things around with your fingers or resize them by pinching with two fingers.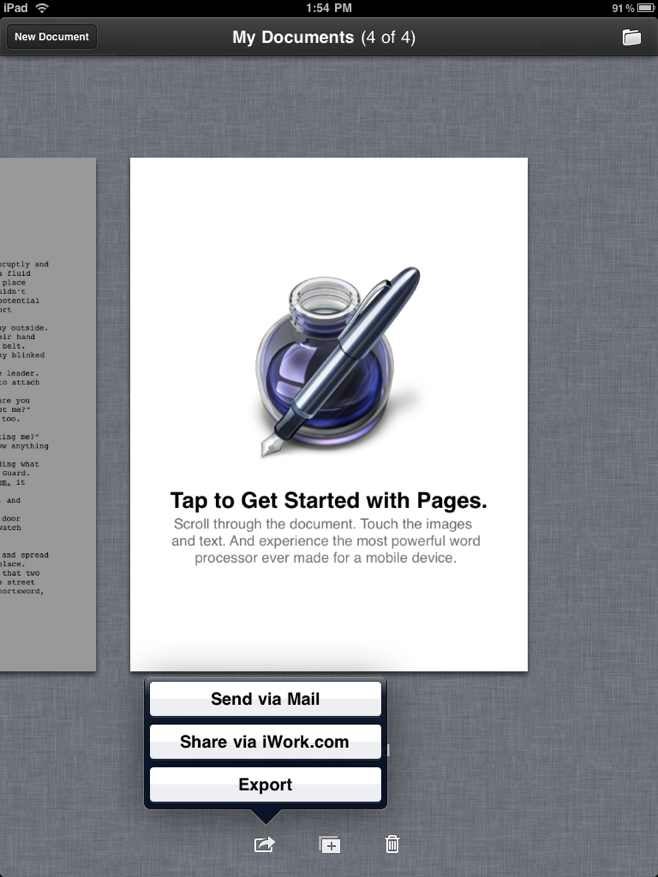 Pages can import documents in two formats: Pages '09 for Mac and MicrosoftWord (Office 97 and later). It can export to Pages '09, Word 97 or later and PDF
As with many iPad apps, you turn the iPad to change modes. In landscape view, you get a full-screen view of your document; in portrait mode, you get a toolbar at the top. (You can make the toolbar disappear by tapping a button -- it took me a couple of minutes to figure out how to bring the toolbar back by tapping on the text.)
The biggest problem with Pages is that it doesn't really sync with the desktop -- it just imports and exports files. And worse, when you import Pages or Microsoft Word files from the desktop, the iPad app strips out important metadata, such as running headers and footers, section breaks, comments and bookmarks. That makes it hard to switch back and forth between your iPad and desktop while editing a document.
Pages is part of the iWork suite for the iPad, along with the Keynote presentation software and Numbers spreadsheet, each priced at $9.99.