8 Great Apple iPad Apps
Product mentioned in this article
There are already several Twitter clients available for the iPad. I've tried a few, and TweetDeck is my favorite. It's a version of the free desktop client that's popular among Twitter power users. It has the familiar multicolumn view, which you can customize to show messages from all your friends, @mentions, direct messages, saved searches and your Twitter lists. TweetDeck also shortens URLs.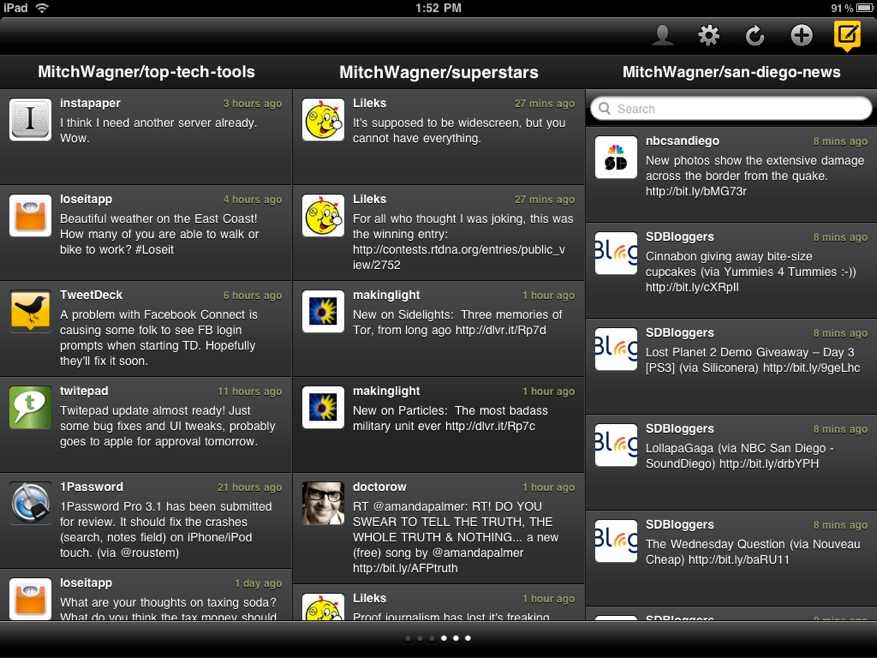 There are some rough edges. In portrait view, the upper third of the screen is just wasted space, filled with the TweetDeck logo and nothing else. That's where you compose your tweets or view individual tweets. I wrote the developers to ask about this; they said they did this on purpose, to keep that upper third as a blank workspace. Hopefully, they'll come to their senses and let the composition and other windows appear as pop-overs, which is how most other apps do it.
Links are not clickable in the tweets column -- you have to open the tweet separately and tap the link. Judging from the comments on the App Store review and on Twitter, many users don't know that trick; they think links don't work at all.
Also, TweetDeck for the iPad is missing one of my favorite features of the desktop app: the word cloud of trending topics on Twitter. It's an at-a-glance way to tell whether anything important is happening in the world and get a general idea of what that news might be. The developers say they're working on a new way to display trending topics that will roll out on all platforms soon.
Things is the control panel for my life. I depend on the Mac and iPhone versions, and I'm happy to see developer Cultured Code was quick out of the gate with a $19.99 iPad version. This version does all the basic tasks that the Mac and iPhone versions do: It keeps to-do lists with start and due dates, and organizes those lists into projects, areas of responsibility, next actions and more.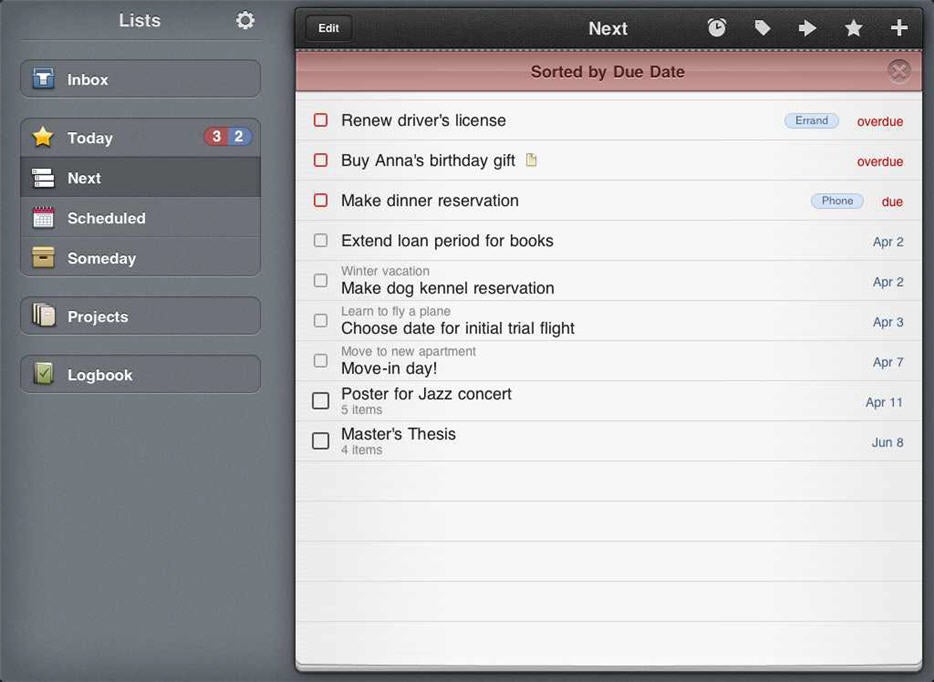 The iPad version has an attractive interface that looks like a ruled tablet of white paper. When you change projects or areas, the sheets of paper seem to curl upward, like a page that's turning..
You can sync your Things data among the iPad, iMac and iPhone versions as long as they're all on the same network. Simply open all three apps at the same time and stand back -- they'll take turns syncing to make sure all three apps are running copies of the same database, and will even prompt you on the Mac to re-open the iPad or iPhone version if you shut them down prematurely. The progress bar is kind of entertaining to watch, too.
Some features from the desktop are still missing in the iPad version -- most notably the ability to re-order tasks in a single project by dragging and dropping. Also, you can't duplicate projects. And syncing among all three apps is somewhat slow. The iPad and iPhone apps tend to lose their connections and have to be restarted once or twice.
Things for the iPad, Mac and iPhone will cost you $80. Many of the reviewers in the App Store say that's too much. I think it's worth it -- I use it all day, every day. But you might feel differently.
The Weather Channel Max for iPad
The iPhone comes with a weather widget among its pre-installed apps, but that app is missing from the iPad. That means you need to either check the weather on the Web or download an app. My favorite app so far: The Weather Channel's free offering.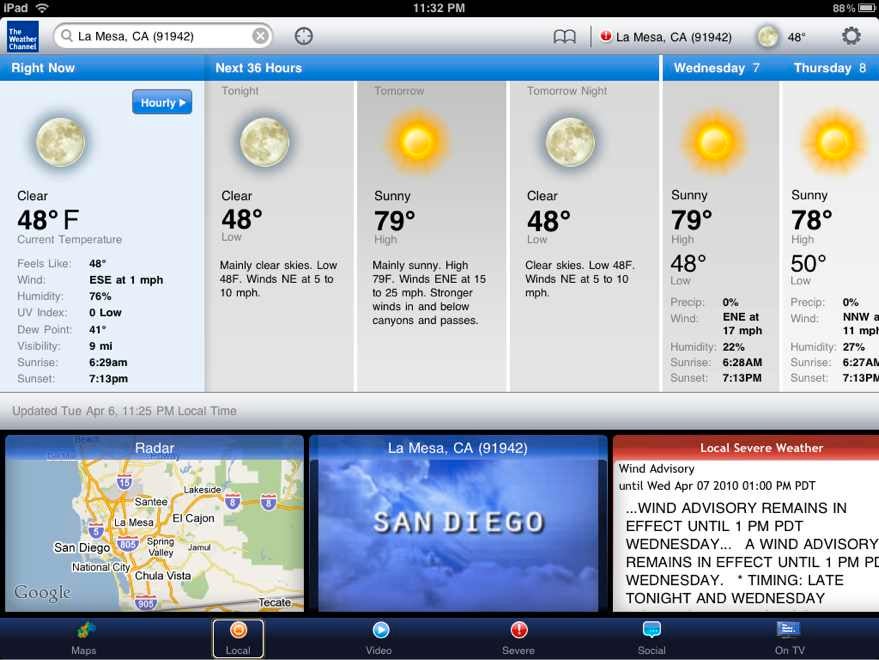 The app is a candy store for weather geeks. You can use it not only to check your local forecast, but also to find out the day's sunrise and sunset times without having to dig too deeply. And you're one tap away from a three-hour forecast, which is handy early in the morning or late in the afternoon when you can expect the weather to change rapidly.
You can also look at interactive weather maps and severe weather advisories and watch video forecasts from The Weather Channel.
The app was slow to start up, and it crashed once or twice the first few times I ran it, but since then it has run smoothly.
Mitch Wagner is a freelance technology journalist and Internet marketing consultant. He blogs at the Computerworld Tool Talk Blog. Follow him on Twitter: @MitchWagner.
Read more about Mac OS in Computerworld's Mac OS Knowledge Center.