Page 2 of 4
In today's blog post, I'm going to summarize what Peter told me. In Part Deux, I'll talk about the nuts and bolts of how the service works and what I was able to find out by messing around with it.
Make no mistake, Kazanjy is very focused on making Unvarnished a site by and for professionals. It's so grey and buttoned-down it makes LinkedIn look positively giddy by comparison. The site is all about making the hiring process more transparent, not about spreading malicious gossip or doing drive-by defamation.
"We're not trying to be Juicy Campus 2.0," he says. "We're trying to mirror online how professional responsibility works in the offline world, while bringing to bear the same transparency and accountability that sites like Yelp and Amazon Reviews bring to reviews of restaurants or software."
Unlike a lot of social media sites that try to get big quick by making it possible for anyone to join (I'm talking to you, MySpace), Unvarnished has put up steep barriers to keep the scammers, the spammers, and the malcontents out.
First, Unvarnished relies on Facebook Connect for your login. If you don't have a Facebook account, you can't use Unvarnished. Period. The reasons? A Facebook account a pretty good indicator you're an actual human, says Kazanjy, even if your username is HappyFeet123. And it creates a persistent identity that can be held accountable for its actions. So even if the people you review don't know who you are, Unvarnished does. If you act badly, there will be repercussions.
Sure, you can create a fresh Facebook account and log in, but Unvarnished algorithms will detect it as a new account and essentially put you on a watchlist. If you start slagging on other people, your reviews will disappear and your Facebook identity will be banned. If you're a good actor and appear to be a legit human, your reviews will become live and you can participate.
"Your account needs to be above a certain threshold of friends," he says. "And it needs to have existed long enough so that we're comfortable you're a real human, that you didn't just spin up an account to add a nice review of yourself or go crap on someone else."
Once you're in, you're free to review anyone on the site -- or to create new profiles for people not already included in the 400,000 or so Kazanjy's team has already added to the database. But if you have no real connection to the people you review -- no friends or reviews in common -- your reviews may get pulled from the site.
As you post reviews, other Unvarnished users can rate your reviews as helpful, unhelpful, or abusive. The more unhelpful or abusive you are, the more your reputation on the site suffers. Your reviews get ranked lower, and if you're abusive you'll likely end up getting booted. There's even an algorithm that watches as you type and prevents you from using bad language in your review, others that scan reviews after the fact and flag those with questionable content (more on that in Part II).
If someone manages to scale all those hurdles and still post a negative review of you, you'll be notified by email and get the opportunity to respond and/or rebut these claims. Like the following exchange between a well-respected tech editor and someone who clearly doesn't much like him (name and title obscured to protect his privacy):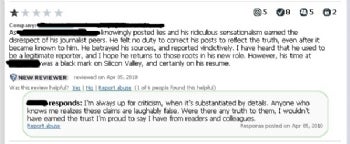 Before you can respond, though, you'll have to "claim" your account -- essentially, proving you're you -- by providing your public LinkedIn information. So to play the Unvarnished game you'll need accounts on both Facebook and LinkedIn.
There's a lot more to say about Unvarnished, and reputation management in general, which I'll get to in Part II (and beyond). But first I have a few bones to pick.
The primary one is that anyone can add you to the Unvarnished database, and once you're on there's almost no way to get off. Kazanby says that in extremely limited circumstances (like creating a profile for someone who's not of legal age) Unvarnished will remove it. Otherwise, it stays.
Also: Unless you've claimed your profile in Unvarnished, there's no way for you to know if someone is shredding your reputation. So you're kind of forced to play along.
I have a problem with both of those things. One of the key tenants of privacy is choice. If you don't want to participate in an online community, you shouldn't be forced to. Nobody's forcing you to use Facebook or LinkedIn, or to put those really bad work experiences you had back in the day on your resume. I think Unvarnished should provide an opt out for people who don't want to play.
Yes, someone can still slag you on their blog (remember Liskula Cohen and the "Skanks in NYC" fiasco?), but that's much different than putting your name into a database designed to be used by your future employers. On this, Kazanjy and I disagree.
Still, Unvarnished isn't the evil Web site it's been made out to be. For specifics on why, you'll need to tune in to Part II, coming soon to a browser near you.
Continue to: Inside Unvarnished: A Close Look at the Controversial Site Part II