As I wrote a few weeks ago, frustration with AT&T coverage in San Francisco's SOMA neighborhood led me to put my iPhone 3GS aside and switch to a Verizon Wireless Droid. I found that I liked the reliability of Verizon's service, and loved certain things about Android -- but that the overall experience was way less polished and predictable than the iPhone.
Here's an update: Over the last week or so, I've been using the iPhone most of the time. It still has severe issues in SOMA (or at least a bunch of places in SOMA where I hang out -- it claims perfect signal strength, but the most reliable thing it does is to drop my calls). Otherwise, though, I've spent far less time futzing than I do when I'm in Androidland. I'm coming to the uneasy realization that I may want to use both phones, depending on what sort of limitations I can deal with at any given time.
A few other notes:
For all of Apple's secrecy, it made its plans for iPhone OS 4 -- at least those aspects of it that don't involve new hardware -- clear at last week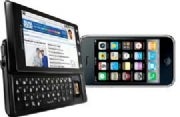 's press event. I'd love to see Google be just as open about Android's future -- maybe at its I|O developer conference, which I'll be attending next month. And here's what I'd love to hear: "The primary focus for the next version of Android is improving the user interface and ensuring that it's as rock-solid as possible -- and doing everything in our power to enable developers to build outstanding apps." I'd love to have a hard time choosing between the iPhone and the Droid because they were both so cool, and so free of serious gotchas . . .
This story, "Droid vs. iPhone 3GS: An Update" was originally published by Technologizer.