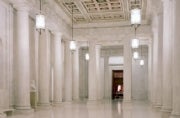 The United States Supreme Court will hear its first ever video game-related case in its upcoming term this year. The case originates two California State Assembly bills that make up a law banning the sale of violent video games to minors. This law was struck down by a U.S. appeals court based in California and now goes before the Supreme Court on appeal.
The law, which also imposes strict labeling requirements for video games and heavy fines for violations, was signed by Governor Arnold Schwarzenegger in 2005. The law never went into effect, however, because it was challenged both by Judge Ronald Whyte and by the Entertainment Software Association (ESA) on behalf of several video game publishers and distributors as a violation of free speech.
Michael Gallagher, president of the ESA, issued the following statement this morning in response to the Supreme Court's decision to hear the case:
Courts throughout the country have ruled consistently that content-based regulation of computer and video games is unconstitutional. Research shows that the public agrees, video games should be provided the same protections as books, movies and music.
The case is titled Schwarzenegger v. Video Software Dealers Association, 08-1448. The Supreme Court's new session begins in October.
This story, "Supreme Court to Hear California Violent Video Game Case" was originally published by GamePro.