Page 2 of 3
There's also a new Cellular Data category, which gathers all the related controls in one place, instead of burying them under the General -> Network pane as on the iPhone. There are two switches here: one to turn all Cellular Data on or off (turning it off will return the "iPad" tag to the top left corner of the display, making it identical to the Wi-Fi model), and one to turn on or off Data Roaming, which helps prevent you from getting charged exorbitant fees for data usage while you're traveling internationally.
Below those is a View Account button where you can sign up for 3G service, an APN Settings menu for advanced wireless settings, and a SIM PIN section that lets you set a code for accessing data stored on the iPad's micro-SIM card.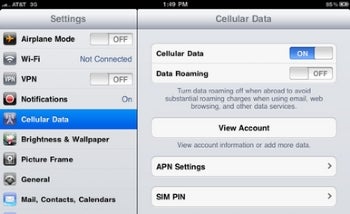 One feature I didn't see was a switch to disable 3G data for the slower (but more battery efficient) EDGE data. On the iPhone, this lives under General -> Network and is a handy workaround for times when you're in an area where the 3G network is over-saturated, as seems to so often happen to AT&T's service in densely populated places like cities. The iPad's specs do list EDGE support, so I imagine that it will fall back on EDGE as necessary, but it would have been nice to have that extra control.
The other feature the 3G-enabled iPad adds is an actual GPS chip—unlike the Wi-Fi iPad, which relies solely on Wi-Fi-based location. A quick test in the Maps app showed no difference in locating my current position in speed, though the 3G iPad did enable a more precise location. I'll be investigating further.
Service, If You Please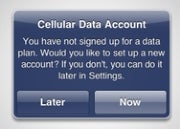 If you're not using Wi-Fi, you'll need to sign up for a 3G plan before accessing the Internet—you'll get a polite dialog box informing you if you try. It's worth noting that the iPad doesn't support voice calls, or SMS and MMS messages. Every iPad data plan does have a phone number associated with it, but if you try to call that number you'll just get a recorded message telling you it's not a working number.
As Apple has laid out, there are two options for service: a 250MB metered plan for $15 per month and an unlimited data plan for $30 per month (the same as the iPhone's 3G data plan). Both are recurring plans by default—you'll be charged every 30 days on the date your current plan ends. You can change this once you've signed up by logging into your account and tapping "Add Data or Change Plan," where you can switch to another plan or cancel your existing plan. In either case, your new choice won't take effect until your current plan expires, so once you've laid down your money, you're in for the month.