Page 2 of 2
3. Whiteboard Collaboratively With Google Drawings.
Google Drawings is the newest app added to Google's suite of cloud-based tools. This stand-alone editor in Google Docs lets you create charts, diagrams, designs and other schematics--perfect if you're working on visualizing a project timeline or even mind-mapping an idea.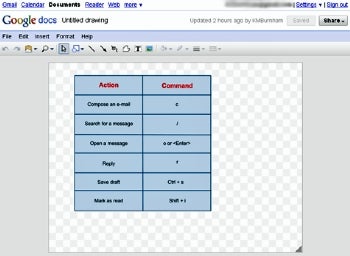 To access Google Drawings, sign into your account and click "Documents." Then click "Create new" and choose "Drawing" from the drop-down menu to begin your work.
A few other highlights: You can edit your drawings in real time with anyone you choose by selecting "Share" and inviting people. You can also chat with others who are editing your drawing, from within the drawings editor. These two features will be rolled out fully by next month; right now you can opt in to its "preview" by visiting your Docs settings page, choosing the "Editing tab" and clicking "Create new text documents using the latest version of the document editor." Also, the drawings editor supports alignment guides, snap to grid and publishing drawings as images.
4. Turn PDFs into Editable Text.
If you've downloaded a PDF that you want to edit, or if you've scanned in a document that you want to convert to a Google Doc, use the Google Documents List API--a tool that uses optical character recognition to convert high-resolution image files with text into text that you can edit.
To do this, log into your Google account and visit this site. Select the file you want to convert from your computer and click "Start OCR import." Note that your file has to be fairly high resolution--10 pixel character height is recommended. The maximum file size is 10 MB.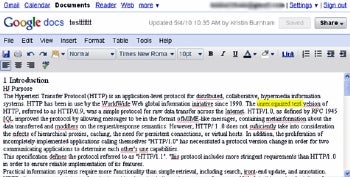 When your upload is complete, the document will load in Google Docs, where you can make changes to it. Depending on the quality of the document, some words may not translate. These will be highlighted in yellow and say "unrecognized text."
5. View Your Calendar Events in MultipleTime Zones
If you travel frequently or hold offices in multiple time zones, you can configure your Google Calendar to preview according to more than one time zone, eliminating confusion and frantic time calculations before meetings.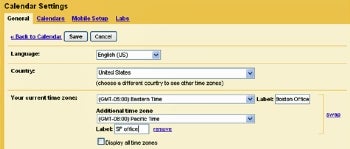 To enable this, visit the "Settings" tab in your Google Calendar. Under "Your current time zone" choose to add an additional one, and label it appropriately. When you visit another time zone, visit this page again and click the "Swap" button on the right. This will configure your calendar so that all meetings and appointments will appear in your current time zone's time.
Staff WriterKristin Burnhamcovers consumer Web and social technologies for CIO.com. She writes frequently on Twitter, Facebook, LinkedIn and Google. You can follow her on Twitter:@kmburnham.
This story, "Google Apps: 5 Secret Features" was originally published by CIO.