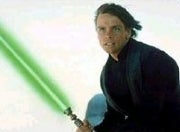 There must be some Star Wars fans at Kensington, because they just announced a new Wireless Presenter Pro device with a green laser pointer option, instead of red. Why Star Wars? Because green was the color of Luke Skywalker's light saber Return of the Jedi (geek alert, it started out blue, but then turned green later).
Sure, Kensington may say things like "studies have proven that the human eye is naturally more sensitive to green than red light, thus making a green laser presenter brighter than a standard red laser," or "green laser technology … will also stand out more against today's brighter projectors, plasma displays, LCDs, or bright rooms," but we know the real reason. They want to be like Luke.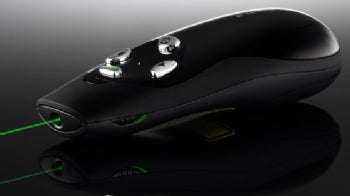 The $80 device also features a USB dongle that provides wireless connections (2.4 GHz) to a projector with a 150-foot range, and is PC and Macintosh compatible (it works with PowerPoint and Keynote). It's also good for freaking out your cats if they've gotten used to the red laser pointer.
This story, "Feel Like Luke Skywalker at Your Next Meeting" was originally published by Network World.