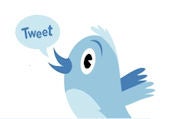 Bomb-joker Paul Chambers has been convicted and fined $1500 for his inadvisable tweet about blowing up an airport. In IT Blogwatch, British bloggers bite back. Your humble blogwatcher selected these bloggy morsels for your enjoyment. Not to mention foolish German youth...
Tim Bradshaw [Financial Times] reports from the United Kingdom of Great Britain and Northern Ireland:
A man's "joke" about blowing up an airport led to a conviction [Monday]. ... The guilty verdict is believed to represent the first successful criminal prosecution in the UK for a tweet. ... Paul Chambers, a journalist and trainee accountant ... turned to Twitter to vent his frustration about travel disruption. ... "Robin Hood airport is closed. ... You've got a week and a bit to get your **** together, otherwise I'm blowing the airport sky high!!"
...

Mr Chambers was arrested on suspicion of making a bomb hoax. ... Doncaster magistrates found him guilty and fined him [$1500]. More.

John Leyden [The Register] fills in the blanks:
The message ... was spotted by managers at Doncaster's Robin Hood Airport, who complained to the police. ... Manager Shaun Duffield who stumbled across the offending Tweet ... told a court on Monday that the message was not taken as a credible threat. ... Even so the prosecution continued.
...
At a trial ... on Monday he was found guilty of sending a threatening message. ... Chambers was ordered to pay a £385 fine and £600 costs by district judge Jonathan Bennett. More.

Allen Green is not a happy camper :
It was perhaps not the funniest joke. ... It was in bad taste and really not at all funny. ... No alarm or distress was caused. ... East Midlands Airport, ... were also not alarmed or distressed.
...
[Prosecutors] realised that they did not have sufficient evidence for the bomb hoax offence under the 1977 ... Criminal Law Act. ... So some bright spark came up with section 127 of the Communications Act 2003 ... [which] makes it an offence for a person to send a "menacing" message. ... [But it] requires proof of intention ("mens rea"). More.
Mike Melanson [ReadWriteWeb] draws parallels to US law :
Even in the U.S. under the First Amendment, incitement to violence is not protected. At the same time, if someone says aloud, in anger, "I'm so mad, I could kill..." ... should they be prosecuted for making death threats? How about if they tweet it? More.
Mike Butcher [TechCrunch] :
Alas, the Police had never heard of Twitter. Then again Twitter has heard of them. #twitterjoketrial is now trending on Twitter, producing many "I am Spartacus" type tweets about blowing something up... More.
Darren Allan [TechWatch] is even-handed :
[It] illustrates exactly why matters like this shouldn't be joked about in this day and age.
...
Clearly it was a tasteless joke, but equally clearly, the response seems disproportionate. More.
And Finally...
Don't try this at home (or in Germany) [hat tip: Queen Pickle]
Don't miss out on IT Blogwatch:
Subscribe to the Computerworld Blogs and IT Blogwatch newsletters
Catch up with posts from the previous few days
Richi Jennings is an independent analyst/consultant, specializing in blogging, email, and security. A cross-functional IT geek since 1985, you can follow him as @richi on Twitter, pretend to be richij's friend on Facebook, or just use good old email: itbw@richij.com. You can also read Richi's full profile and disclosure of his industry affiliations .
This story, "Twitter Bomb Joker @PaulJChambers Fined $1500 in #TwitterJokeTrial" was originally published by Computerworld.