The Atomic Web Browser for the iPad and iPhone adds a few features that makes Web surfing much better. It's a little buggy, but worth the $0.99 price for the premium version.
The best new feature of Atomic: Tabs. Atomic displays all your open Web pages as tabs at the top of the screen, and you navigate between open pages by tapping the tabs, just like you do on a desktop Web browser.
By tapping and holding on a link, you get a choice of opening the link in a foreground or background tab.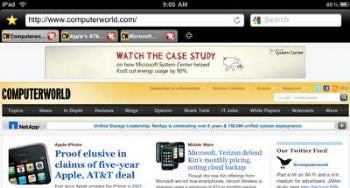 The premium version, priced at $0.99, supports unlimited tabs, constrained only by the device memory; the free version only lets you open a limited number of tabs.
You can tell Atomic to lie to Web servers. Don't worry, it's only a little white lie; Atomic identifies itself as another browser when visiting Web sites. This is useful for sidestepping mobile versions of sites that come up by default when you visit some pages, like the Twitter home page, on the iPad. Switch the settings on Atomic from the default Mobile Safari to Firefox and you'll never see that pesky mobile-optimized page again. This feature only works in the premium version, it's not supported in the free version.
Atomic lets you switch to a full-screen views of Web pages, hiding the buttons, title bar, address bar and other tools. That's especially popular on the iPhone, with its smaller screen.
Atomic lets you find specific text in a Web page, or view the source code of a Web page, two features missing from the default Mobile Safari.
Atomic has built-in integration with Facebook and Twitter to post links to those social sites.
You can increase and decrease the font size of pages you visit, and remember those settings when you return to those pages. And Atomic has a private mode, which allows you to surf to secret Web sites without leaving a trail in your browser history. (If you're just looking for private browsing without the other features of Atomic, the free Privately browser does the job.)
Atomic has some problems. It occasionally locked up for me. I'm still figuring out whether that's a problem with Atomic, or if it's just a temporary issue with my iPad. Some reviewers on the App Store reported similar lockup problems, others said it's very stable or that previous versions had lockup problems that have since been solved.
But despite the shortcomings, Atomic is a great browser, worth the $0.99 price tag for the premium version.
An minor upgrade is awaiting approval in the App Store, with small improvements. After that, the developer is working on Version 3.0, with a user interface makeover.
Mitch Wagner is a freelance technology journalist and social media marketing consultant. Follow him on Twitter: @MitchWagner.
This story, "Atomic Has Better Browser for Apple iPad, iPhone" was originally published by Computerworld.